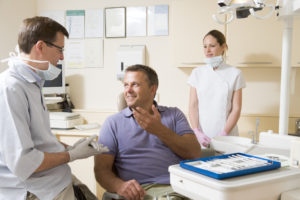 At Goodman Dental Care, we are dedicated to helping patients achieve and maintain their healthiest smiles, but in our Annapolis dental office. We also know that are many people in Annapolis and throughout Anne Arundel County who do not have the means to receive the dentistry services they need. That's why we are longtime supporters of the Stanton Center. This free outreach clinic offers underserved patients necessary medical and dental care at no cost to them, and we regularly volunteer our time and talent to help Stanton Center patients. We recently decided to add our own volunteered services for select patients. Each month, we'll give away a free dental crown restoration to a patient in need.

The Need for Free Dental Crowns
While volunteering our time with the Stanton Center, we noticed that patients with more advanced dental care needs didn't always have access to the care they needed. That's what sparked our idea to provide free dental crowns. While we can't offer crowns for every patient in need, we will provide one free dental crown every month. If you want to learn more, please contact us. So far, we've been able to offer free dental crown treatment for Zoey B. and Sean T. Zoey's parents and Sean were kind enough to write our team to thank us.
Zoey B's parents said: "Zoey has few options in her life. We, her parents, are elderly and are living on a fixed income. We have done what we can to help Zoey make her way in life. Dental care is a serious need that has had to be postponed. Offering free medical care to Zoey and people like Zoey who have few options is generous and admirable. Thank you!"
Sean T. said: "I was seen in a very timely manner. The greeting from Renee made me feel like family, and she escorted me to my extremely comfortable chair. Renee's enthusiasm was an awesome treat. Technology has come so far these days, and Dr. Goodman's office has it! Dr. Goodman was just as enthusiastic as Renee was. He made me feel very comfortable, and he went over and beyond what the job called for. Thank you!"
Same Day Dentistry
Our state-of-the-art E4D one visit dental restoration system allows us to provide a custom crafted dental crown in just one day. That means our free dental crown patient can come in with a damaged tooth and leave with a picture-perfect smile. The E4D system uses high quality dental ceramic to create gorgeous restorations that will blend seamlessly into your natural smile line.
Meet the Goodman Dental Care Team
If you want to learn more about our free dental crown offer or any of our services, please contact us in our Annapolis dental office. The Goodman Dental Care team is dedicated to making Annapolis and all of Anne Arundel County great places to live and work. If you want to learn more about how we give back or join us in volunteering at local events or supporting our communities, don't hesitate to ask your dentist or one of our team members during your next visit.