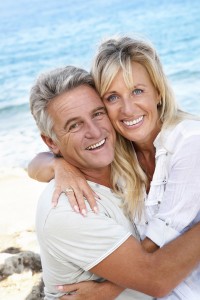 You're probably familiar with dental crowns that restore a tooth's form and structure when there has been severe decay or irreversible damage. However, have you heard of the E4D system? This advanced dental technology allows Annapolis dentists Drs. Goodman to give you a new crown in just a matter of hours. Traditional crowns, which have long been the gold standard, necessitate scheduling two appointments that are usually separated by a couple of weeks. With E4D, you'll be on your way with a strong new tooth after only one visit.
With traditional dental crowns, a dentist must first prepare the tooth and then take a molded impression that is sent out to a dental lab where the crown is fabricated away from the watchful of the dentist. And while the crown is made, the patient must wear a temporary crown that can come loose or even break.
Alternatively, a crown made by the E4D system condenses all of these steps into one conveniently scheduled appointment. And even better, you won't have to sit with a mouthful of goop in order to get an impression of your tooth. That happens quickly and simply with E4D.
The E4D Process
Let's examine what's involved in placing a dental crown with E4D. The system consists of three basic components. The first is an oral wand equipped with laser scan technology that captures an optical impression of your damaged tooth. This image is entered into E4D's second component, a computerized system that is loaded with special software to design your crown. This system creates a three-dimensional image of your tooth in order to incorporate the correct size, shape and color of a crown. No detail is left out, so you can be certain that your E4D crown from your dentist in Annapolis will look as good as it feels.
The completed design is wirelessly transferred to the milling unit that sits right here in our office. In less than 30 minutes, the unit carves the dental crown from completely metal-free materials, including porcelain, composite and lithium disilicate. Once milled, we can further polish or stain your restoration so it blends seamlessly with your other teeth.
Finally, one of the dentists in our Annapolis office will bond the crown over your prepared tooth.
For Dental Crowns, Call Our Office Today
If you know you have a tooth that needs a dental crown, then consider having one in a single visit with the E4D system. Call Goodman Dental Care in Annapolis, MD, where your time is as important to us as your smile.