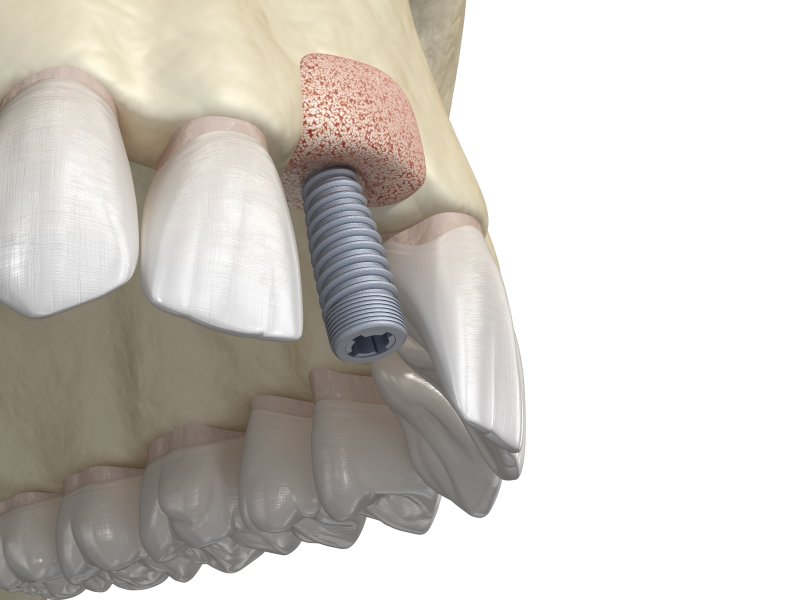 Are you missing teeth? Fortunately, with modern dental technology, you have several different tooth replacement options. One that is preferred by both patients and dentists is dental implants. They are great because they replace the natural root of the tooth and feel natural. However, some patients require a bone graft in Annapolis before they can have their implants placed. But this isn't as scary as it may sound. Continue reading to learn more about bone grafting and why it is a necessary step for many patients before their dental implant placement surgery.
Why Does Missing Teeth Cause Bone Loss?
The root of your tooth stimulates your jaw whenever you chew, therefore keeping it strong and healthy. However, when you're missing teeth, your jawbone isn't receiving this stimulation, so the bone tissue begins to reabsorb. As time goes on, the more the bone deteriorates. This can cause difficulties when eating and speaking. It can also affect the alignment of your natural teeth.
What Is Bone Grafting?
Bone grafts work by placing existing bone tissue into the jaw. This bone can come from another part of your mouth, another area of your body, or by a human or animal doner. Sometimes synthetic material is also used. Once this new piece of bone is placed in the correct area, it will seal itself to the old bone by creating new bone cells around the grafted material. Ultimately, you will build up more bone in the areas that you need it. This is a relatively minor procedure and patients are typically sedated throughout the entire process. Most patients who receive bone grafts are completely pain-free.
Why Do I Need A Bone Graft?
Needing a bone graft before getting dental implants is fairly common. This technique is required when a patient does not have a sufficient amount of healthy bones in their mouth that are capable of supporting dental implants in Annapolis. Often times, this is a result of previous tooth loss, but it can also be cause by developmental defects, periodontal disease, and facial injuries.
What Happens After the Bone Graft Procedure?
After the bone graft procedure is complete, your dentist will prescribe you antibiotics in order to prevent infection. If they deem it necessary, you may also be given pain medication. However, most patients do great afterwards with just the antibiotics. Once the bone graft fuses with the natural bones that are in the mouth, your dentist will be able to place the implants. Depending on your individual case, this could take anywhere from three months to a year. This depends on how substantial your bone loss is.
As intimidating as a bone graft sounds, it is very common and normal to get before implant surgery. During your consultation with your dentist, they will be able to determine if one is necessary for you. With a little bit of patience, you'll have your smile restored in no time!
About the Practice
At Goodman Dental Care, you have two highly skilled dentists providing quality dental care to their patients in the Annapolis area. Both Dr. Gary Goodman and Dr. Jeremy Goodman earned their dental doctorates from the University of Maryland. They are both committed to continuing their education in order to stay informed on all of the latest techniques and technologies in dentistry. For more information on bone grafts or to schedule a consultation, visit their website or call (410) 263-1919.