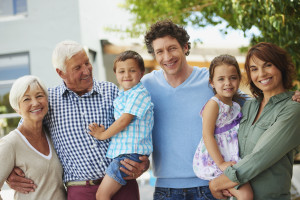 The start of the New Year just seems to be the right time to make a new commitment. The slate is clean, the year is fresh—you have 12 whole months to bring your commitment to fruition! Annapolis dentists Dr. Gary Goodman and Dr. Jeremy Goodman would like to help. We'd like to suggest that you and your family commit to better oral health care. There are a number of steps you can take on your own. Read on to find out what you can do to have a healthier and more attractive smile.
Learn How to Brush and Floss
We know what you're thinking—I've been brushing my own teeth since I was a kid, and now you want me to learn how? The fact of the matter is many people don't bush correctly. Making just a little change in the way you brush your teeth can make a big difference.
Always hold your toothbrush—whether manual, electric or battery-operated—at a 45-degree angle to your teeth. This way, you'll not only brush the surfaces of your teeth, but along the gum line, too. Plaque can quickly build up here if not removed daily. Then, bacteria can begin to infect your gum tissue, which may lead to periodontal disease.
After brushing, take another couple of minutes to floss your teeth, too. Tear off about 18 inches of floss so you'll be able to use a fresh segment between each pair of teeth. Guide the floss between two teeth and press against the side of a tooth. Then, gently move the floss up and down and back and forth.
Eat a Healthy Diet
Eating a healthy diet is just as important to your oral health as it is to your general health. Fresh fruits and vegetables not only give you important vitamins and minerals, but they also scrub your teeth as you eat and stimulate saliva flow. Calcium-rich foods such as yogurt, cheese and broccoli strengthen teeth and bones. And if you tend to drink bottled water, drink from the tap every now and then. Fluoride added to most municipal water helps harden tooth enamel, which is each tooth's first line of defense against decay.
Kick the Habit
If you're a smoker—and we hope you're not—Drs. Goodman would like to remind you to quit. People who smoke or chew tobacco are at a greater risk for developing gum disease, which is a bacterial infection linked to other bodily illnesses and diseases. So for the sake of your general and oral health, kick the habit.
Call Our Office Today
Finally, you can take better care of your smile this year by scheduling dental checkups every six months. Contact Goodman Dental Care today for an appointment.