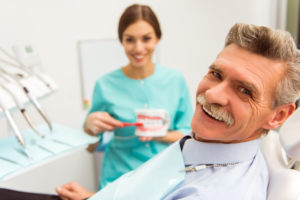 Did you know that if you have recently invested in partial or full dentures in Annapolis, you are following in the footsteps of humans from an earlier millennium? In fact, the first dentures have been traced all the way back to 700 BC in northern Italy. Of course, dentistry has advanced considerably since that era, and modern dentures now fit better and last longer than ever before. However, there are still some important daily steps you should take to protect your investment and help make your new smile last. Keep reading to learn the top 4 tips for superior denture care.
Clean Your Dentures Daily
Just because dentures are not natural teeth does not mean you can put down the toothbrush. Dentures can still build up stains and bacteria, which can irritate or even infect the tissues in your mouth. Brush your dentures daily with a soft-bristled toothbrush to keep them looking new and prevent oral infections. While you are at it, brush your gums, tongue and palate every morning as well before you insert our dentures – doing so stimulates circulation in mouth tissues and helps remove plaque.
Handle With Care
You want your dentures to last for many years, so be sure to handle them with care. Accidentally dropping them onto a hard surface could easily cause dentures to break. When you remove your dentures to brush them or soak them overnight, be sure to stand over a soft folded towel or a large bowl of water. This way even if you are a bit clumsy you do not have to worry about damaging your new set of teeth.
Soak Your Dentures
Take your dentures out before going to bed and soak them overnight in warm water. Be careful to never use hot water, or else your dentures may warp. Soaking dentures help removes stains, plaque bacteria build up and keeps them from drying out. It also gives your gums a chance to rest and allows the tissue to recover.
No DIY Dentures Repair
Of course, even when taking precautions, accidents can still happen. If your dentures break, crack or become loose, do not try to adjust or repair them by yourself. DIY repair can seriously damage dentures. Instead, leave it to the professionals and schedule a visit with your dentist in Annapolis.
Investing in dentures is a reliable way to create a new smile that can improve your appearance and your health. By following these 4 tips, you can help keep your dentures looking vibrant and in good shape for the long-term.
About the Practice
Led by an experienced father-son team, Goodman Dental Care provides caring, compassionate dental care to families and individuals in the Annapolis community. From cosmetic care to emergency dentistry, patients can rely on Dr. Gary Goodman, Dr. Jeremy Goodman and their team for all their dental care needs. If you would like to learn more about dentures, dental implants and other restorative dentistry options, visit the Goodman Dental Care website or call the office at 410-263-1919.