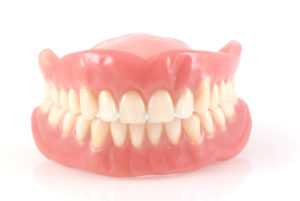 If you're missing multiple teeth, dentures offer a relatively fast and affordable way to restore your smile. However, rather than seeing a dentist in Annapolis, some people think they can save a few dollars by making their own dentures at home using a variety of kits available on the internet. While this might seem like a smart solution to a big problem, in most cases, homemade dentures end up creating more issues than they solve. Here are the top 3 reasons you should avoid homemade dentures.
1. Aesthetic Problems
Dentistry, when done well, is the combination of both science and art; a smile needs to look good as well as function properly. While you might be able to make a functional set of dentures using a homemade kit, it will likely not be customized to fit your face, creating a number of aesthetic problems. The perfect smile shows just the right proportion of teeth, gums, and lips, and this balance is unique to each person. A dentist spends years training so they can determine this for each patient, and it is nearly impossible to do on your own.
2. Function Issues
Of course, your new teeth don't just have to look natural, but move as well. This is where most people get into trouble with homemade dentures. Your teeth are not a standalone part of your body—they need to work seamlessly with your jaw joints and muscles in order to allow you to speak and eat normally. Do you know what the proper alignment of your jaw is? Do you know how to figure it out on your own? If you're like most people, you probably have never thought about this. Most patients who try homemade dentures end up suffering from jaw pain simply because their jaw isn't able to find its natural resting position.
3. Cheap Materials
The reason homemade dentures tend to be so cheap is because of the materials used, which most of the time boil down to plastic. While these materials may be able to create a somewhat natural appearance, they likely won't be able to stand up to the chewing forces your mouth exerts when you eat. Most of the time, people with homemade dentures find that their diet is just as restricted as when they had missing teeth. Plus, because the materials often aren't specifically designed to go into the mouth, they tend to create irritation on the gums and lips, which can make the mouth more prone to infections and additional dental problems.
The Trusted Alternative
When made by a board-certified dentist working with a dental lab, dentures look natural, feel comfortable, and enable a patient to speak and eat normally. Your dentist will take the time to thoroughly assess what your new teeth should look like and how they need to function using a variety of scans and diagnostic images so there is absolutely no guesswork. Then, once they have designed the dentures, they will send a model to a dental lab who will use the highest quality materials to make them. The best part? Your dentist will be there for you in the future when your dentures inevitably need to be adjusted or maintained.
In the end, when it comes to your smile, you should always trust your dentist, and not the internet. While professionally made dentures may cost more than their homemade counterparts, the benefits far outweigh the added expense. And, in most cases, they only cost a few dollars a day when you consider that they are expected to last for about 7 years. You simply can't expect that from a homemade denture.
If you're missing multiple teeth, consult your dentist, and then it's just a matter of time before you have your complete smile back.
About the Author
Dr. A. Gary Goodman is a general, restorative, and cosmetic dentist with over 30 years of experience serving the Annapolis, MD area. If you are interested in getting your teeth replaced, he can offer you multiple options. To contact him, click here.