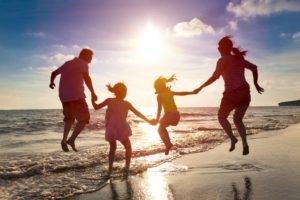 Are you looking forward to finally going on your summer family vacation you've been planning for months? Don't let something like a dental emergency ruin your fun by not being prepared. Knowing how to handle a stressful situation can not only allow you to act confidently, but reacting fast could be the key to preserving your future oral health. Your emergency dentist in Annapolis discusses a few common dental emergencies and how to handle them until you're able to get to your dentist.
Searing Toothache
If you're experiencing a painful toothache on your vacation, it could be because of a few different reasons. Getting to your dentist to identify the cause is vital. In the meantime, you can try to tackle the pain by rinsing your mouth with lukewarm salt water. Taking acetaminophen or over-the-counter pain reliever can help ease your pain so you can enjoy the rest of your vacation. If you're experiencing some swelling, applying a cold compress to the outside of your cheek can help bring it down. It's important to not put heat or aspirin on the affected area because it will just make it worse. Remember to make an appointment with your dentist as soon as you're able to.
Knocked-Out Tooth
If you've just knocked out one of your teeth, it's important to contact your dentist right away—this can be the difference between saving and losing a tooth. If you're able to get to your dentist in Annapolis within an hour, you have a significantly higher chance of having it reattached. While you're on your way, it's important to keep your tooth moist without handling it by its root. If you can't get it back in its socket, you can tuck it between your gums and cheek or store it in a bag of milk.
Chipped or Cracked Tooth
If you've chipped, broken, or fractured your tooth, you'll want to visit your dentist as soon as possible. Waiting could impact your overall oral health by causing infection and decay. Until you can see your dentist, try to ease your pain by taking an over-the-counter pain reliever like acetaminophen or ibuprofen. Rinse your mouth with lukewarm salt water to keep an infection from forming. Also, if you need to eat, try chewing softer foods on the opposite side of your mouth from where your damaged tooth is.
Broken or Lost Temporary Crown
Your temporary crown was placed on your tooth to help protect it from harmful bacteria and further decay. If it breaks or comes off, be sure to remove it from your mouth so you don't accidentally swallow it. It's best to call your dentist as soon as you notice it has fallen out. Try not to chew on the side of your mouth with your affected tooth, and don't floss around that area until the problem is addressed.
Some emergencies such as a broken jaw or uncontrollable bleeding should be addressed by going to the emergency room first. Once that has been done and you have further dental needs, be sure to stop by your emergency dentist's office! Knowing how to react during an oral emergency can help keep your family's summer vacation fun and stress-free!
About the Author
Dr. Jeremy Goodman's goal is to give each one of his patients the most advanced dental care in a warm and welcoming environment. He's passionate about staying up to date with the most recent dental techniques and treatments. As a member of the Seattle Study Club, Chesapeake Implant Study Club, and many other associations, he enjoys providing his patients with trustworthy and individualized treatments. For questions or to schedule an appointment, visit Goodman Dental Care's website or contact 410-263-1919.