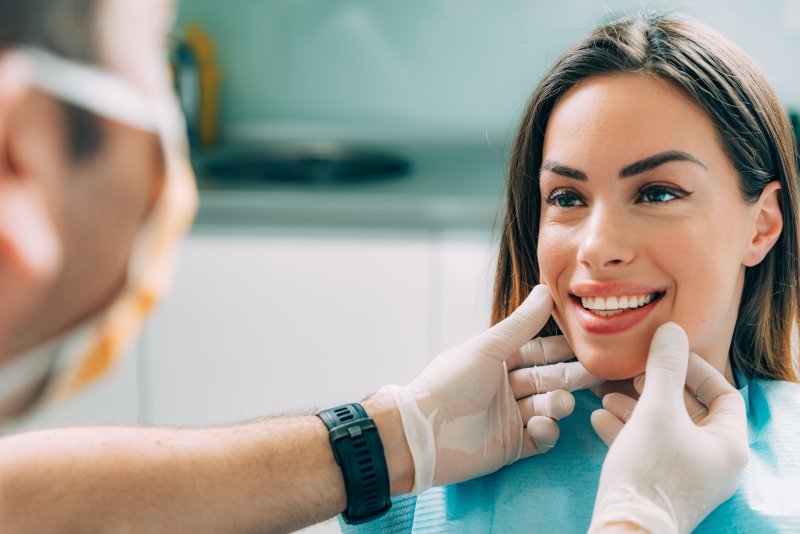 Occasionally, you may not go to the dentist for preventive care. Instead, you visit them to receive cosmetic dental work for your smile. Many dental providers, after all, can give you a white, straight, and downright gorgeous grin! Still, your dentist may need to address other health issues before transforming your teeth. You see, a healthy mouth is often crucial to cosmetic dentistry. As for why that's the case, here's a summary of the matter from your Annapolis dental practice.
Why Does Cosmetic Dentistry Need a Healthy Mouth?
In reality, untreated oral problems complicate cosmetic dental work. They often cause treatment to fail or produce unwanted side effects. At other times, these services hide a dental issue from view and thus help it worsen.
Given these facts, a cosmetic dentist performs an oral exam prior to treatment. This approach lets them see if you have dental conditions that conflict with cosmetic services. In case you do, they'll address these issues before anything else. Your newly-healthy teeth will then benefit from cosmetic procedures.
Health-Dependent Cosmetic Services
Several cosmetic procedures work better with healthy mouths. For example, three of the most common include the following:
Teeth Whitening
Per its name, teeth whitening is a treatment that whitens your enamel. It uses a special gel to bleach tooth stains off of your enamel.
Unfortunately, whitening isn't good for decayed teeth. Its chemicals can irritate already-weak enamel and other tooth surfaces. As a result, a strong whitener may cause pain, discomfort, and increased sensitivity.
Porcelain Veneers
Porcelain veneers are thin shells that dentists place on the fronts of teeth. Their main use is to hide smile flaws- stains, chips, cracks, misalignments, etc.
A veneer, however, won't do any good for an infected tooth. Placing the shell involves enamel removal, something which can worsen an infection. From there, the veneer might hide your tooth's problem and delay needed care.
Metal-Free Restorations
Metal-free restorations are usually tooth-colored fillings and crowns. These things cover the tops of teeth, protecting the enamel surface and helping it look better.
Like with veneers, these prosthetics don't help teeth with untreated infections. A dental crown, for example, isn't useful if it protects infected pulp.
Tips on Improving Your Oral Health
Naturally, you should avoid poor oral health if you want quick cosmetic care. With that said, start practicing these habits in the future:
Brush your teeth twice daily.
Floss at least once daily.
Use fluoridated mouthwash.
See your dentist for regular checkups and cleanings.
Cosmetic dentistry is always worthwhile. Even so, remember to keep your smile healthy so it does an even better job!
About the Practice
Goodman Dental Care is based in Annapolis, MD. Led by Drs. Gary and Jeremy Goodman, our practice offers caring and compassionate dentistry for all. To that end, we perform high-quality preventive, cosmetic, and restorative work, as well as emergency dental services. You can therefore trust us to give you a healthy and gorgeous grin! For more information or to book a visit, reach us on our website or call us at (410)-263-1919.