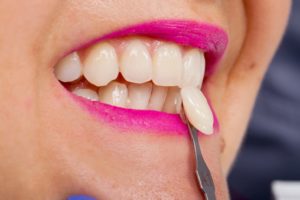 The smile of your dreams is possible with porcelain veneers. Although there are more cosmetic treatments than ever before, veneers continue to rank among the most common procedures annually. They can address many imperfections using one quick, minimally invasive solution that produces long-lasting results. However, you will need temporary veneers along the way. While they're only needed for a couple of weeks, they are a crucial step in your treatment plan, and here's why.
What are Veneers?
A veneer is a customized shell that's bonded over the front side of the tooth to enhance its shape, size, and color. However, the overall goal of the procedure is to enhance the entire smile. Your cosmetic dentist will likely recommend applying them to the teeth visible when smiling.
You will achieve the most drastic results because they can correct many imperfections without needing multiple procedures or lengthy treatments. In as few as two appointments, veneers can correct stains, chips, gaps, and many other imperfections.
Why are Temporary Veneers Necessary?
Temporary veneers are worn for a couple of weeks. They are needed between the time your teeth are prepared and when you receive your final restorations.
The process of getting veneers requires a small amount of enamel to be removed. While this does not harm the health or structure of your teeth, they can be vulnerable to bacteria and damage if they are not covered while waiting for your permanent veneers. They will protect your teeth while allowing you to "try on" your new smile.
The Process for Getting Veneers
After an initial consultation to ensure your teeth and gums are healthy, your cosmetic dentist will create your personalized treatment plan.
During the first portion of the procedure, your dentist will etch the surfaces of your teeth, which is necessary to ensure the veneers sit flush. It also creates a strong bond between your teeth and the veneers, allowing them to last for 10 years or longer with the right care.
After your teeth have been prepped, your dentist will take an impression of your mouth to send to the dental lab. The lab will carefully craft your veneers to meet your exact specifications, but it can take a couple of weeks. Your dentist will apply temporary veneers to safeguard your smile during this time.
After the dental lab has finished making your veneers, and they've been sent back to your dentist, you'll return for your second and final appointment. The temporary veneers are removed and your final ones are bonded in place. You'll walk out of the office with a picture-perfect smile.
Cosmetic dentistry is a big investment. Temporary veneers help ensure your time and money are well spent to achieve the best results.
About Dr. A. Gary Goodman
Dr. Goodman achieved his dental degree from the University of Maryland School of Dentistry and has regularly continued his education in advanced services, like cosmetic dentistry. He is a proud member of many professional organizations, including the American Dental Association. If you're interested in veneers, request an appointment through our website or call (410) 849-6247.