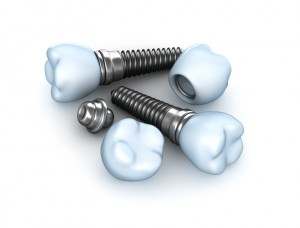 For those who have gaps in their smile due to missing teeth, dental implants offer a permanent solution to fill the missing space with a dental prosthetic. Dental implants are the most preferred solution for tooth loss because they look and function like natural teeth. They offer a long-term investment in your smile because there's no need to have adjustments or new implants made every few years like that of dentures. Not to mention, they provide amazing oral health benefits that just aren't possible with other forms of dental prosthetics. However, dental implants are only available to those who are candidates for the procedure. If you're considering dental implants in Annapolis, Goodman Dental Care will help you determine if dental implants are right for you.

What are Dental Implants?
To benefit from dental implants, you'll need to undergo a surgical procedure to insert a bio-compatible titanium post into your jawbone, which acts as a new tooth root. After your jawbone has fused to the implant, a titanium or ceramic abutment is used to hold the prosthetic crown to the implant post. Once the procedure is complete, you'll have a beautifully restored smile.
Who Can Get Dental Implants?
Dental implant procedures have a very high success rate of over 95 percent. The high success rate is attributed to only performing the procedure on ideal candidates. To see if dental implants are right for you, you'll need to undergo a thorough evaluation by a dentist in Annapolis to determine if you have healthy gums. Those with periodontal disease can't get implants because the risk for infection is too high. In addition, since the implants are inserted into the jawbone, you must have adequate bone density. However, for those with decreased bone density, you may still be able to get implants with the help of bone grafting and other special procedures.
With the top threat for implant failure caused by infection, you must practice great oral hygiene to be a candidate for dental implants. You must brush and floss daily, while avoiding certain lifestyle factors that make you prone to infections, such as tobacco use.
Those who are pregnant, heavy smokers or abuse alcohol or other substances are not candidates for dental implants. In addition, those who have undergone high-dose radiation of the head or neck are not suitable candidates. Patients with certain medical conditions may not be able to receive dental implants, such as those with uncontrolled diabetes, immune deficiencies, or connective tissue diseases. The use of certain medications can also cause you to not be a candidate for dental implants.
Dental Implants in Annapolis
If you're considering dental implants in Annapolis, the only way to determine if you're a candidate for the procedure is with a thorough examination. If you're considering dental implants for tooth replacement, Goodman Dental Care will perform the evaluation you need to create a customized treatment plan as an implant dentist in Annapolis. Call our office today at (410) 934-3086 to schedule a consultation today.