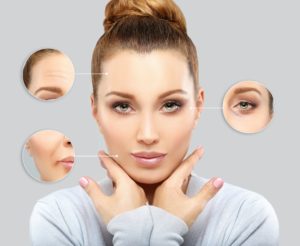 Your face can be the first place to show the signs of aging. Collagen starts to slow down after the age of 30, which are the fibers of protein in your skin that give it elasticity, strength, and support. The number of strands decreases in number and stretches out over time. Although everyone will get wrinkles, you can turn back the clock with BOTOX. Here's how you can look younger by treating 6 types of wrinkles with BOTOX.
1. Frown Lines
Glabella lines, also known as frown lines, are the vertical creases that form between the eyebrows. Although they are common, they can make you look angry or tired.
Inserting BOTOX can smooth frown lines, making it the most common area to be treated with BOTOX. However, deep lines may be resolved better using a dermal filler and BOTOX.
2. Forehead Lines
"Surprise lines" occur with age as they form across your forehead. It's not unusual for them to develop in your late 20s or early 30s.
BOTOX and dermal fillers are an easy anti-aging method to prevent wrinkles from becoming deeper and more difficult to treat. BOTOX will prevent the muscles from contracting while a dermal filler will plump the creases.
3. Top of the Nose
Bunny lines are the small creases that can appear when your nose becomes wrinkled. Injecting BOTOX on either side of the nose can help reduce their appearance.
4. Hooded Eyes
Hooded eyes can cause a droopy appearance. You can lift droopy eyelids without surgery using BOTOX. Inserting it into areas of the upper face can lift your brow to make you look younger.
5. Crow's Feet
The outer corners of your eyes can develop crow's feet. They result from years of smiling or squinting your eyes. The anti-aging injection can make your eyes appear youthful and bright, which is why it's the second most treated area.
6. Under Eye Wrinkles
Tear trough wrinkles can make you look tired. It requires precision to inject BOTOX into the muscles that control the lower lid to refresh your appearance. Depending on your situation, dermal fillers may be a better option.
Invest in the Benefits of BOTOX
BOTOX ranks among the most common elective treatments to combat the signs of aging, and for good reasons, like:
Quick, Lasting Results
Minimally Invasive
Affordable and Convenient
If you're ready to reveal a youthful appearance BOTOX may be the solution for you. You won't need surgery to achieve the improvement you want. You'll look and feel your best after 1 appointment.
About Dr. A. Gary Goodman
Dr. Goodman earned his dental degree from the University of Maryland School of Dentistry and has regularly continued his education to provide advanced services, like dental implants, BOTOX, and cosmetic dentistry. He is affiliated with many professional organizations, including the American Dental Association. Request an appointment through our website or call (410) 849-6247.