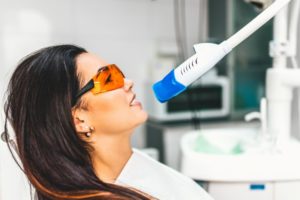 After a lifetime of coffee and tomato sauce stains, it's no wonder you're looking into teeth whitening in Annapolis. You deserve a bright smile that will never cease to impress. Whether it's in the office or out on a date, it can boost your confidence and get you far. Investing in your mouth is priceless, so you'll want to make sure to take care of your teeth after you get them whitened. Read on to learn how to maintain your perfect grin after treatment!
How do I Care for My Smile After Treatment?
After your consultation appointment with your cosmetic dentist in Annapolis for teeth whitening, you'll get the go-ahead to be able to choose the best treatment plan for your smile. As an easy and noninvasive service, you'll be selfie-ready in no time. But how do you best maintain your smile afterward?
For about 72 hours after you get your teeth whitened, they will be extra porous and absorb dark colors and stains easily, so you'll have to adjust your diet. Some food and drinks that you'll want to avoid include:
Red wine
Coffee
Black tea
Colored fruit juices and dark sodas
Soy sauce
Red meats and sauces
Chocolate
A good rule of thumb is to not eat anything that would stain a white shirt. You will instead want to consume food and drinks that will benefit your newly whitened smile, including:
Sparkling and tap water
White yogurt
Skim milk
Chicken and turkey
White fish
Bananas
Potatoes, mashed or boiled
Cauliflower
White rice
White bread and pasta
It's a simple diet to follow: eat light-colored and white foods to help keep your teeth bright and avoid dark foods that your teeth could easily absorb.
What are Some Temporary Side Effects of the Procedure?
After your procedure is complete, you may experience a couple of side effects that are completely normal. You may notice your teeth are more sensitive after your visit or your gums may be slightly more tender than usual. To help with this, you can use a special sensitive tooth toothpaste or ask your dentist if they can offer you a desensitizing gel that will counter the effects. You may want to see your dentist again so they can checkup on your progress.
Don't wait any longer to achieve your noteworthy smile! With little to no preparation and post-treatment care needed, teeth whitening is the most convenient treatment for you. Be sure to schedule your consultation so you can start enjoying your new beautiful smile!
About the Practice
Our father-son duo at Goodman Dental Care can provide you with the highest quality of comprehensive treatments. Drs. Gary and Jeremy Goodman want to welcome you into the warm and comfortable environment that is our practice. They strive to get to individually know each patient and give them their best smiles. To schedule your teeth whitening appointment or for any questions, visit our website or contact us at 410-849-6247.