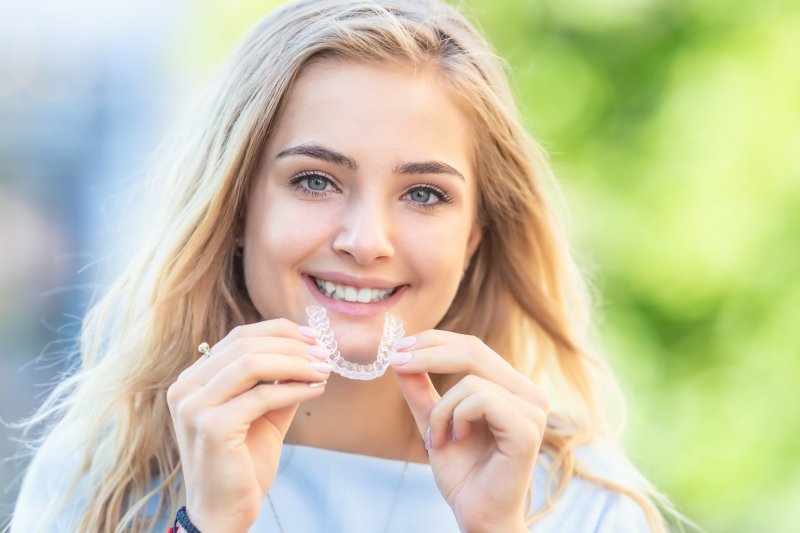 Invisalign aligners have become an incredibly popular orthodontic treatment, and when you see them it's easy to understand why. They're remarkably discreet, and their removability means that they don't come with any dietary restrictions.
Your Invisalign aligners have been specially designed by a lab technician to fit your mouth, but when you actually get your trays, you may find that they don't fit as well as you'd like. If that happens to you, here's why that might be, and what you can do about it.
How Should an Invisalign Aligner Feel?
When you first get your Invisalign aligners, it's completely normal for them to fit a little uncomfortably over your teeth. Clear aligners work by applying constant pressure onto the teeth, and that's only possible if they're fairly tight. However, your trays will also have to contain the teeth once they've moved into their ideal position, which means that it's also fairly common for them to have some small gaps when you first put them on.
How Will I Know if my Aligner Doesn't Fit?
As you may have gathered, it can be a little hard to determine whether or not your aligners fit by feeling alone; after all, you may not have a good sense of the difference between normal discomfort and an actual problem.
For one, the first set of aligners should feel comfortable after a week or two. Once your teeth are used to moving, each new tray should only feel a little tight for a day at most. If you're bothered by your tray for any longer than that, it may be a sign of a problem.
There are also some instances where the aligner isn't just tight, but is rubbing against your gums or lips. It could be that your aligners weren't trimmed to fit your mouth, in which case you should let your dentist know so that they can fix it.
What Do I Do If My Aligner Doesn't Fit?
If your aligner is uncomfortable and has been for a while, there's no harm in calling your dentist. They'll know what kinds of issues to look for, and will give you a better sense of whether what you're feeling is normal.
If your aligner has broken or warped, they may recommend that you either move up to the next stage prematurely. You could also fall back to a previous aligner while your dentist orders you a replacement.
About Our Practice
At Goodman Dental Care, we want you to feel like you're always going to get the best that dentistry has to offer. Our father-and-son dental team, Drs. Gary and Jeremy Goodman, believe in treating every patient the way they'd like to be treated—with compassion and respect. Every time you visit our office, you can be sure that you'll leave feeling happy and refreshed.
If you have any questions about how Invisalign aligners ought to fit, we can be reached at our website or by phone at (410) 263-1919.