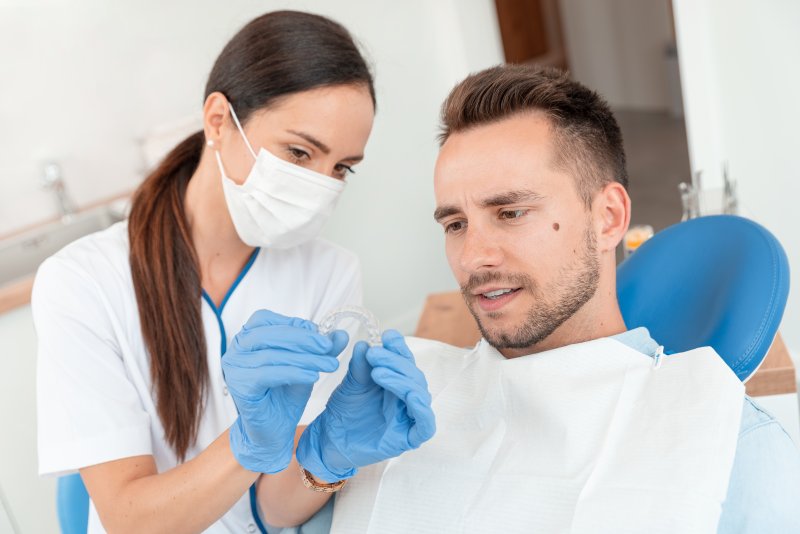 When Invisalign was introduced in the late 1990s, the world of dentistry was forever changed. Not only did this revolutionary teeth-straightening solution offer patients virtually invisible treatment, but it also delivered flawless results in a fraction of the time! So, it's not surprising that over two decades later it remains one of the leading orthodontic solutions for children and adults alike. However, to stay on track with your Invisalign treatment, there are a few rules you must follow. Read on for Invisalign do's and don'ts in Annapolis.
3 Ways You Can Ruin Your Invisalign Treatment
Removing them too often
Entirely removable trays allow patients to bypass pesky food restrictions and complicated oral hygiene regimens. However, if they are not worn for at least 22 out of the 24 hours of the day, the treatment timeline can be significantly lengthened. Therefore, make sure to only remove them when completing your dental care routine, drinking, or eating.
Not disinfecting them correctly
To prevent the aligners from staining and trapping bacteria against your teeth, you must clean them daily. However, doing so incorrectly can warp or break the aligners, which can extend your treatment. So, make sure to avoid using hot water and bleach, which can degrade the plastic. Instead, use a soft-bristled toothbrush and dentist-recommended toothpaste.
Eating with your Invisalign trays
Whether it's a first date or monthly night out with friends, subtly removing your trays can seem like an impossible feat. Unfortunately, many patients choose to avoid the saliva-y mess by keeping their aligners in during their meal. However, this can bend their shape or cause them to break altogether! To prevent this from happening, it is of the utmost importance that you remove them before enjoying your meal.
4 Invisalign Best Practices
Avoiding the Invisalign "no-no's" can help ensure your treatment goes smoothly. But, doing the right things are equally as important! With this in mind, make sure to:
Rinse your aligners when taking them in and out of your mouth.
Soak the trays in Invisalign cleaning crystals or denture cleaner each evening.
Maintain a solid oral hygiene routine (i.e., brush twice a day, floss daily, etc.).
Visit your dental team frequently for checkups and cleanings.
Starting Invisalign is exciting because it means you're one step closer to the beautiful smile you deserve. To ensure your treatment goes smoothly from start to finish, keep the above do's and don'ts in mind along the way!
About the Practice
Led by father-son duo Dr. Gary Goodman and Dr. Jeremy Goodman, each member of the team at Goodman Dental Care is united by their mission to deliver high-quality dentistry that speaks for itself. Whether you need a routine cleaning or want to straighten your teeth with Invisalign, you can rest-assured knowing they are using the latest technology and techniques to care for your smile. If you are looking for a cosmetic dentist in Annapolis, don't hesitate to visit their website or give them a call at 410-263-1919.