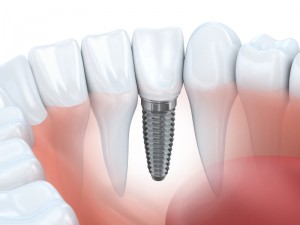 At Goodman Dental Care, we strive to make dentistry as convenient as possible for families in Annapolis. That's why for dental implants and our other treatments, we make use of the latest technology and expert hands to take care of everything you need under one roof. Forget traveling to multiple dental offices to complete the different stages of your dental implants in Annapolis. Our team of doctors can perform the entire procedure, from initial implantation to the final restoration… and every step in between.
All About Your Dental Implants
There's no doubt about the fact that dental implants offer the best tooth replacement option available today. These titanium posts provide unmatched stability for the prosthetic that sits on top, and they improve your jawbone health, too. In all, the procedure for dental implants may take up to a year to complete — a significant investment in time, yes, but it's one that patients agree is well worth it in the end.
The treatment for dental implants is completed in two phases.
Phase One: Implantation
While most dental offices have to refer patients to an oral surgeon for this initial portion, the team at Goodman Dental Care is highly trained and experienced in dental implant implantation. It's when each tiny titanium post is surgically implanted into the jawbone, where it will act as a sturdy prosthetic root once the recovery is complete.
Recovery following the initial implantation of dental implants may last up to eight months, depending on the initial health of the jawbone and where in the jaw the implants are placed. During this time, osseointegration takes place — the process in which the implants fuse to form one solid unit with the jawbone. A temporary tooth replacement will be worn during the recovery phase.
Phase Two: Restoration
After osseointegration has occurred, the recovery is complete and the dental implants are ready for their final restoration. This step is when the permanent prosthesis is secured on top. Single dental implants be restored with a beautiful dental crown, while an implant-supported bridge or denture is best for replacing several missing teeth. Implant-supported dentures are ideal for a whole row of missing teeth in the top or bottom of the mouth.
Contact Goodman Dental Care Today!
If you're ready to experience the very best that modern tooth replacement has to offer, please don't wait to get in touch with Goodman Dental Care. Don't forget that we provide everything you need for your dental implants, all under one roof. Contact us or request your appointment online today!