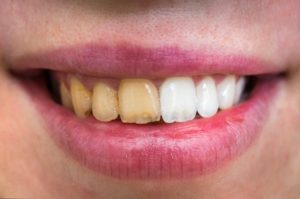 If your smile isn't as bright as it used to be, it's easy to feel insecure about your appearance. Thankfully, you don't need to live with stains and discoloration. Your cosmetic dentist has the solutions you need to revamp your smile. Often, teeth whitening in Annapolis is all you'll need; however, it may not be the right option for everyone. Instead, your dentist may recommend veneers, but you'll need to permanently alter your teeth, which is a big commitment. There isn't any reason to worry. Here's what you need to know to achieve the bright, beautiful smile you desire.
Types of Tooth Stains
Did you know not all tooth stains are the same? Depending on the type you have, your treatment plan will vary because not all will respond to a traditional whitening treatment. Your cosmetic dentist in Annapolis will determine the underlying cause of your discoloration, such as:
Extrinsic: Staining on the surface of a tooth is classified as extrinsic. They are caused by the pigments found in the foods and drinks you consume, as well as certain lifestyle factors, like poor oral hygiene habits or smoking.
Intrinsic: Intrinsic stains originate from below the surface of the tooth. They are often the result of excessive fluoride or certain medications, which makes them more difficult to treat.
Age-Related: As you age, your teeth can be discolored by both extrinsic and intrinsic factors. Over the years, your enamel thins, causing more of your yellowish dentin to be visible.
Benefits of Teeth Whitening
Teeth whitening in Annapolis is an effective way to resolve surface stains and some age-related discoloration. After an initial consultation, your cosmetic dentist creates a customized plan. A highly concentrated whitening agent is applied to your teeth, which is activated using a special dental light. In as little as 1 hour, your teeth can become as much as 8 shades brighter. As an alternative to in-office treatments, professional at-home kits can offer the same results.
Benefits of Porcelain Veneers
A veneer is a thin shell bonded over the front surface of a tooth to instantly cover a variety of imperfections, like dark discoloration. Overall, veneers in Annapolis improve the color, size, and shape of a tooth, making them the ideal option if you have several issues you want to correct. On average, it takes 2 appointments to apply veneers. During your first visit, your teeth are prepared by removing a small amount of enamel, and your dentist takes impressions of your mouth. It will take the dental lab about 2 weeks to create your veneers, at which point you'll return to the office to have them bonded to your teeth.
You don't need to hide behind a discolored smile any longer. Your dentist has the personalized solution you need to enjoy brighter, whiter teeth.
About Dr. A. Gary Goodman
Dr. Goodman earned his dental degree from the University of Maryland School of Dentistry. He has completed advanced education at the Pankey Institute and Spear Study Club. He offers the latest cosmetic solutions to help his patients achieve their best smiles. Contact our office today to schedule your consultation.