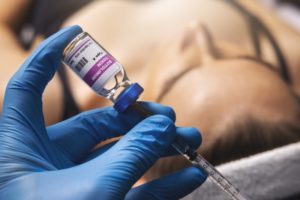 When someone mentions BOTOX, you probably think of receiving treatment for fine lines and wrinkles. That's just the tip of the iceberg, however. While this injection is extremely effective when it comes to anti-aging, it's much more versatile than people give it credit for. Keep reading for some lesser-known uses for BOTOX in Annapolis!
BOTOX: from Medical Use to Cosmetic Phenomenon
Over the last decade or so, BOTOX has soared in popularity. But it was only recently that BOTOX became known primarily for its cosmetic uses. Previously, it was used to treat patients with ailments like crossed eyes or persistent eye twitching. However, once the researchers noticed the diminished wrinkles on their patients, the BOTOX treatment we know today was born!
Lesser-Known Uses for BOTOX
The FDA has approved both medical and cosmetic uses for BOTOX. But since many patients know it solely as an anti-aging treatment, its other uses may surprise you. Here are a few of the ailments it's used to treat:
TMJ disorder
Cervical dystonia
Excessive sweating
Chronic migraines
Urinary incontinence
Acne management
Benefits of BOTOX
Ever wonder why BOTOX is one of the most sought-after treatments? In addition to being incredibly effective at addressing everything from fine lines to TMJ-related symptoms, it comes with several other benefits including:
Quick treatment
Noninvasive and safe
Painless
Near immediate results that last 3-4 months
Cost-effective
Is BOTOX Right for You?
If you're considering BOTOX, the best thing to do is to schedule an initial consultation. While treating medical issues like urinary incontinence and cervical dystonia should be a decision you make with your primary care doctor, you should speak with your dentist about creating the perfect frame for your smile and treating TMJ-related symptoms. After all, your dentist has a deep understanding of facial tissue and structure, making them uniquely qualified to administer BOTOX.
Now you know that BOTOX in Annapolis is so much more than just an anti-aging treatment! If you think it may be the solution you've been looking for, then don't wait any longer to schedule your consultation.
About the Author
Dr. Gary Goodman has been working for the smiles of Annapolis for more than four decades. He earned his dental doctorate from the University of Maryland. Dr. Goodman is a member of the American Dental Association and serves as a clinical instructor in advanced general dentistry at the University of Maryland. If you are interested in BOTOX, he will determine if you qualify as a candidate for this treatment during a consultation which you can schedule on his website or by calling (410) 263-1919.