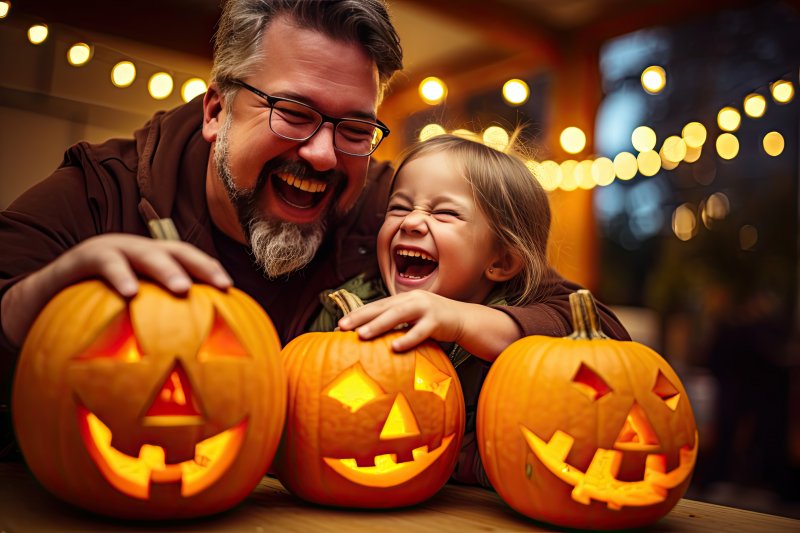 Halloween is a time for costumes, haunted houses, and, of course, frightful, and delightful treats. While the temptation to indulge in sugary sweets is ever-present, your oral health doesn't have to bear the brunt of the festivities. With a few mindful choices, you can navigate Halloween without haunting your teeth.
If you want to learn more about how to keep your smile looking boo-tiful on Halloween, continue reading. You'll find five great tips to keep your pearly whites healthy.
1. Practice Portion Control
While the allure of Halloween candy can be strong, controlling the amount you consume is a smart strategy. Enjoy your favorite treats in moderation to avoid overindulging and minimize the impact on your dental health. This way, you can savor the sweetness without compromising your smile.
2. Water It Down
Stay hydrated throughout your spooky celebrations by drinking water between treats. Not only does water help wash away sugary plaque from your teeth, but it also promotes saliva production, which aids in neutralizing acids and preventing cavities.
3. It's Not All About Sweets
Expand your Halloween thinking by considering non-food treats. Instead of focusing on candies, offer alternatives like stickers, small toys, or other trinkets. Not only does this diversify the treats, but it also promotes a teeth-friendly approach to Halloween celebrations. You just might be the only house on the block giving out apples!
4. Don't Stop Your Oral Care Routine
Don't let the festivities disrupt your regular oral hygiene routine. Brush your teeth for two minutes, floss, and consider rinsing with an antibiotic mouthwash after indulging in treats. Do this when you wake up and before you try to go to bed after watching scary movies. This helps remove stubborn sugar and prevents the formation of plaque, protecting your smile from cavities.
5. Plan a Post-Halloween Checkup
As fright night winds down, consider scheduling a post-Halloween dental checkup. This allows your dentist to assess your oral health, address any concerns, and ensure that your smile remains in scary good condition.
Your smile doesn't have to be scary this Halloween. By making good choices, practicing moderation, and maintaining your oral hygiene routine, you can enjoy the treats of the season without compromising your oral health. So, this Halloween, may your fangs shine bright, and your treats be sweet.
About the Practice
At Goodman Dental Care, Dr. A. Gary Goodman and Dr. Jeremy Goodman are the heart of the dental team, helping their patients achieve brighter smiles and better oral health. Their friendly team of professional staff is ready to welcome you and help you with your needs. To schedule an appointment, call (410) 263-1919 or visit the website to learn more.