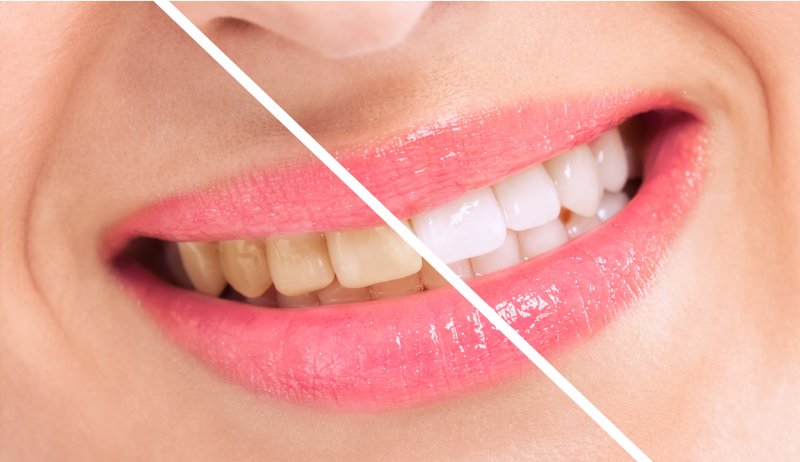 When it comes to taking pictures, are you a closed-mouth or smile-wide type of person? It should come as no surprise that your smile is one of the first things people notice, so you want it to look good, right? Nowadays, the drinks you consume, foods you eat, your age, and even a lack of oral care can lead to yellowing of the teeth, which often results in tight-lipped smiles for the camera. To get a better understanding, let's look at what can cause teeth to become yellow and how teeth whitening in Annapolis may be a viable solution.
Drinks
Beverages such as coffee, soda, wine, and sports drinks are all guilty of causing teeth to become yellow over time. Artificial flavorings in sports drinks and dark pigmented colors in coffee and soda can settle on the teeth and cause stains if not removed properly.
Foods
Don't forget that many of the foods you eat can adhere to tooth enamel. Colorful berries and spices, as well as balsamic oils and sauces, can lead to yellowing of the teeth.
Smoking
Not only does this bad habit cause serious damage to other areas of the body, but the nicotine also creates yellow and brownish stains on your teeth. Not to mention, it leaves you with bad breath!
Other reasons teeth may begin to yellow include:
Age
Antibiotics
Genetics
Physical trauma
Too much fluoride
Tooth grinding
How Can I Get Rid of the Stains and Make My Teeth Brighter?
If you're tired of yellow, stained teeth, teeth whitening may just be the solution to your problem. At-home whitening kits are a great way to conveniently and effectively whiten your teeth without having to make multiple trips to your dentist office. A cosmetic dentist in Annapolis can provide you with a kit, which includes a set of customized whitening trays and professional-strength whitening gel. In a matter of weeks, you will begin to see a dramatic change in your smile. Now that is something to get excited about!
It is suggested that you discontinue any habits that can cause yellowing of the teeth, like skipping that extra cup of coffee and avoiding cigarettes. Failing to do so can undermine teeth whitening efforts, and why would you want to do that?
Now is the time to say goodbye to yellow teeth! Take control of your smile, and don't let the bad habits of your past determine your smile of the future. Try teeth whitening today, and be amazed by the results!
About the Practice
Drs. Gary and Jeremy Goodman provide a wide variety of treatments to patients in Annapolis and the surrounding communities. If you are unhappy with the way your smile looks, Goodman Dental Care can help! Making sure you are treated with compassion and care, you will leave our office happy, healthy and confident in your smile. That is our top priority. To learn more, contact their office via the website or by calling (410) 263-1919.