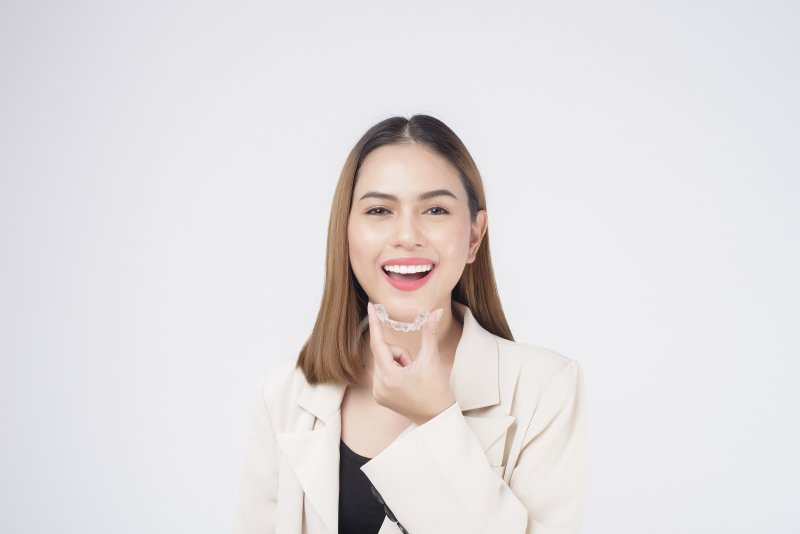 To those who don't wear clear aligners, it may look like Invisalign can be put on and taken off whenever you want. Though the removable quality of these aligners makes them more convenient for many people than traditional braces, that doesn't mean you can leave them off for long periods and still get the results you want. In fact, Invisalign needs to be worn for 20-22 hours each day for it to be as effective as possible. If you're concerned about meeting your Invisalign wear time, read on for tips that will make this goal easier to achieve.
Why You Need to Follow the 22-Hour Rule
Invisalign clear aligners apply gentle pressure to teeth to gradually move them into a better position over several months or longer. This allows patients to feel minimal discomfort throughout treatment while making consistent progress toward a more beautiful smile. Every one to two weeks, you will move to a new set of trays that are straighter than the last. According to the Invisalign website, you will need to wear each set of aligners for 20 to 22 hours each day. This is because they are only effective while you're wearing them. If you don't wear your trays for this amount of time, complications, discomfort, or treatment delays may arise.
How to Meet the Time Requirement
Though committing to wearing your aligners for such a long period may seem daunting, there are several ways you can make it work. A few tips to help you wear your aligners for at least 20-22 hours each day include:
Time your meals – Allow yourself 15 minutes for breakfast, 30 minutes for lunch, and 60 minutes for dinner. This will leave you with enough wiggle room to eat a snack if you get hungry between meals as well as to complete your oral hygiene routine after you finish eating.
Use a tracker – Download an app like "Tray Minder" to help you keep track of how often you wear your aligners each day.
Multitask – Your aligners will need to be cleaned each day to keep them looking their best and prevent bacteria buildup. Multitask by placing your trays in a glass of lukewarm or cold water with cleaning crystals during meals. You can also use a solution made specifically for Invisalign or one made for dentures or retainers.
Brush, floss, and rinse – Immediately after meals, brush and floss your teeth. You should also rinse with mouthwash to make sure that you get rid of as much harmful bacteria as possible.
Switch to new trays before bed – The first few hours after putting on new aligners are often the most uncomfortable. Putting them on before bed means you may be able to sleep through the initial discomfort.
Meeting your Invisalign wear time can take some getting used to, but these tips should make it easier to adapt. Make sure to follow the guidelines your dentist gives you, and you'll be sporting a beautiful new smile in no time!
About the Practice
Having a crooked, gapped, or misaligned smile can hurt your self-esteem. Luckily, Goodman Dental Care offers Invisalign clear aligners that can help. Led by father and son team Drs. Gary and Jeremy Goodman, their skilled Annapolis team of oral health professionals can help you determine if Invisalign is the right fit to give you the smile you've always dreamed of. If you're interested in setting up an appointment or want more information on Invisalign, visit their website or call their office at (410) 263-1919.