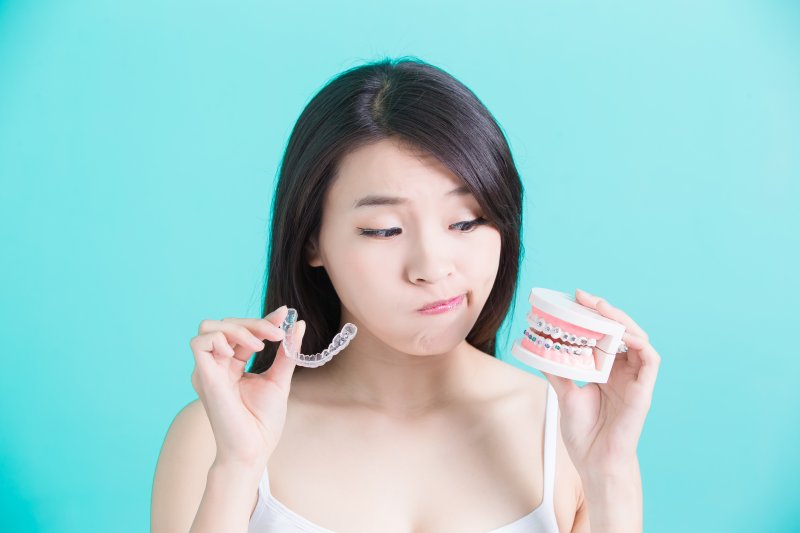 Orthodontic treatment is one of the most popular solutions to crooked and misaligned teeth. But now that Invisalign is on the market, it can be challenging to decide between clear aligners or traditional metal braces. They're both effective treatments, but they have distinct differences and offer unique benefits. Read along as we compare Invisalign and braces to help you settle on the best option for your smile.
What's the Difference Between Invisalign and Braces?
Invisalign and traditional metal braces are both equally capable of helping you achieve a beautiful, straight smile. But the main difference between the two is how they straighten your teeth.
Invisalign – This modern orthodontic treatment uses a series of clear aligners to subtly and gradually move your teeth. The thin plastic trays are smooth and virtually invisible, making treatment a much easier and more comfortable experience.
Metal Braces – This process involves gluing metal brackets to the enamel of each tooth. Then, wires are maneuvered between the brackets to help mold and shape your teeth over time. The elastics used with your braces are available in multiple colors, making them a fun option for younger teens!
The Benefits of Treatment
With each orthodontic treatment, you can expect to reap several benefits.
Invisalign
Most patients who choose Invisalign often do so because the treatment is removable and discreet. It's the perfect solution for responsible teenagers and adults who want to achieve a straighter smile without noticeable dental work. Since there are no wires involved, the plastic trays offer a much more comfortable experience than braces. Plus, there are no dietary restrictions since you can simply remove the aligners before eating.
Braces
For some people, braces may be the better solution to address their oral health needs. Patients with complex dental issues may benefit the most from the braces, as some problems can only be fixed with metal wires and brackets. Since the braces are adhered to your teeth for about two years, they're an ideal option for younger patients who lack self-discipline. Also, caring for your teeth is much easier than with Invisalign because there's no special care required outside of your usual routine (brushing and flossing daily).
What Are the Downsides to Invisalign and Braces?
While each treatment offers many benefits, there are downsides you should keep in mind as well. For example, traditional braces are not an ideal option for athletic patients because the metal could injure their mouths upon impact. Conversely, patients with severe dental issues may not be eligible for Invisalign because the aligners cannot correct teeth that are rotated or overlapping.
Choosing the right orthodontic treatment involves more than just your preferences. You must consider your lifestyle, habits, and oral health needs to determine the best solution for your smile.
About the Practice
At Goodman Dental Care, you can look forward to receiving caring, compassionate, and high-quality services every time you step into our office. We offer comprehensive and personalized services to help you achieve your healthiest and best smile. If you're looking for an effective, comfortable, and discreet orthodontic treatment, look no further than Invisalign. Now, you can have straighter teeth without the hassle of metal wires and brackets! To get started on your Invisalign journey, visit our website or (410) 263-1919.