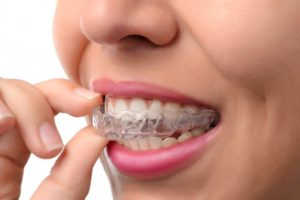 Given that studies show that one-third of Americans say that the first thing they notice about a person is his or her smile, it's safe to say that the condition of your teeth is important to the rest of the world. But more significant than the way others react to your smile is the way it impacts you. Do you feel insecure about having crooked, misaligned, gapped or crowded teeth? If so, your local dentist suggests you consider the benefits of Invisalign in Annapolis to give you the confidence and look that you desire. Learn more about the process as you continue reading.
How Does the Invisalign Process Work?
Invisalign clear aligners offer an alternative to traditional braces, meaning there are no wires and metal brackets to contend with. Made from BPA-free clear plastic, they offer you the ability to straighten your teeth without the whole world knowing that you're wearing an application.
The process starts with you visiting your dentist for a consultation, where he will go over the procedure with you and determine whether you are a good candidate. He will then scan your teeth and collect a bite impression so that your aligners can be custom crafted to fit.
Once they are crafted, you'll return to your dentist to get your full set of trays and wear for a minimum of two weeks, discarding each for the next set in the sequence. Meanwhile, your teeth will be adjusting gradually and comfortably to the desired position.
Some Points to Keep in Mind About Wearing Invisalign
Here are some details that will ensure that your experience with your clear aligners will be the best possible:
Be sure to wear them at least 22 hours per day to ensure that your teeth progress at the proper pace.
Clean your aligners using a combination of brushing and soaking in denture cleaner to guard against the growth of bacteria.
Don't leave your aligners in hot areas like your car in the heat of summer. This can cause them to warp.
Be sure to practice excellent oral hygiene. Since you can remove your aligners to brush and floss your teeth, it's important that you take advantage of the opportunity. Otherwise, having an application fitting snuggly against your teeth can create a petri dish effect, where bacteria flourish.
On a final note, you may be wondering how long the Invisalign process takes to complete. The answer is that it varies and depends on the state of your ivories at the beginning of the process. But, you can expect this method to be faster than the traditional braces route.
To learn more about how you can gain the confidence that you desire and get excited when you look into the mirror, just reach out to your cosmetic dentist in Annapolis to schedule an appointment today.
About the Author
For over 30 years Dr. A. Gary Goodman has been providing excellent care to patients in Annapolis. Earning his Doctor of Dental Surgery degree from the University of Maryland School of Dentistry, he remains a lifelong learner, participating in seminars, practicums and courses to stay abreast of the many changes in the world of dentistry. Dr. Goodman practices at Goodman Dental Care and can be reached for more information through his website.