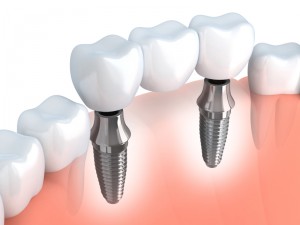 Bridges and crowns are the most affordable and convenient option for replacing missing teeth. However, now you have another option, an implant supported bridge. An implant supported bridge is very similar to that of a regular dental bridge, however, it offers more benefits than that of a traditional bridge. Since dental implants are used, the bridge is permanently inserted into the mouth, which allows you to gain many additional benefits, including enhanced oral health. As a dentist for dental implants in Annapolis, we offer implant supported bridges to give you a complete smile.

What is an Implant Supported Bridge?
An implant supported bridge is very similar to regular bridges. It provides prosthetic teeth to fill the space from missing teeth. The key difference between the two types of bridges is the fact that an implant supported device is held in place with titanium posts that are surgically inserted into the jawbone. A traditional bridge, on the other hand, is held in place by dental crowns that are attached to adjacent teeth. The use of the implant posts instead of crowns not only provide a more natural look, but exceptional benefits that allow you to invest in your smile.
What are the Benefits of an Implant Supported Bridge?
The use of titanium posts that are inserted into the jawbone are the very reason you're able to gain additional benefits that just aren't possible with traditional bridges. Once you lose a tooth, you begin to lose bone density. As you lose bone density, your remaining natural teeth will begin to shift, causing you to have to have a new dental bridge made periodically to continue to give the remaining teeth support. However, even with adjustments, it's likely your adjacent teeth will eventually fall out, but not with an implant supported bridge.
An implant supported bridge not only stops bone loss, but stimulates new bone growth so your remaining teeth will stay strong and healthy. Plus, since crowns aren't used, you don't have to worry about additional decay or damage to the crowned teeth.
How Does It Work?
The process to receiving the implant supported bridge will first require an evaluation by a dentist in Annapolis to determine if you're a candidate for implants and if you'll need any additional procedures, like bone grafting. If it's determined you have adequate bone dentistry, titanium posts will be surgically inserted into your jawbone. Then, an abutment is used to hold the restoration in place, which consists of a series of natural-looking, custom-made crowns. Once complete, you'll have a permanent, completely new smile.
Your Dentist for Dental Implants in Annapolis
Goodman Dental Care is your trusted dentist in Annapolis for dental implants. We offer a diversity of implant options to help treat your individual needs when it comes to replacing missing teeth. For those who have more than one missing teeth in a row, an implant supported bridge may just be the solution you need. If you're interested in learning more about dental implants in Annapolis, call our office (410) 849-6247 to schedule a consultation.