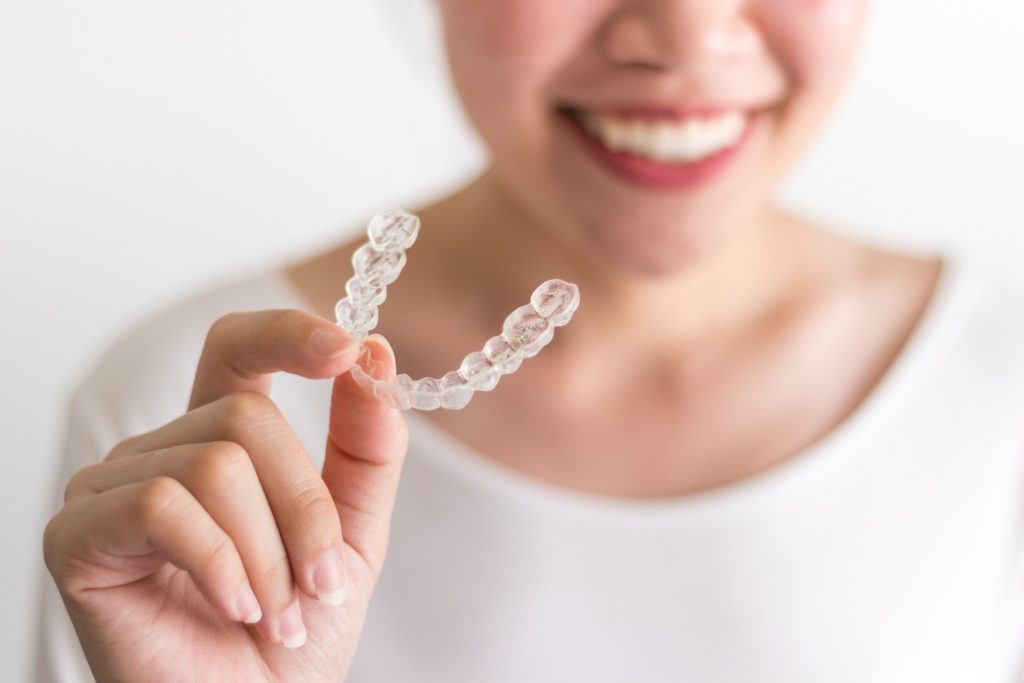 With clear aligners, no complicated oral hygiene regimens, and shorter treatment timelines, it's not surprising that more than 12 million patients have chosen to pursue their dream smiles with Invisalign. Even with all of these benefits, you may be itching to see your beautiful new smile much sooner. While you can't speed up the process per se, you can incorporate a few habits to avoid falling off-track with your treatment plan. To learn what they are, keep reading!
#1. Wear Your Aligners as Much as Possible
Although you can remove your aligners easily, it's important to remember that they only work while you're wearing them. So, naturally, you need to keep them in place as much as possible. The general rule-of-thumb is 22 hours a day. However, if you can wear them even more than that, that's great! A helpful way to break down your wear time is 15 minutes for breakfast, 30 minutes for lunch, and 45 minutes for dinner.
#2. Follow a Solid Oral Hygiene Regimen
If you develop a cavity, gum disease, or other oral health concern, then your treatment will need to be postponed until your teeth and gums are restored. Luckily, dental problems like these are largely preventable with a solid oral hygiene regimen in place. That starts with brushing and flossing your teeth after each meal and extends to getting a checkup and cleaning every six months.
#3. Always Store Your Aligners Safely
One of the best ways to misplace your aligners is by wrapping them in a napkin or leaving them out on the table while you eat. Since losing your trays can significantly delay your treatment timeline, it's crucial that you instead place them in their designated storage case anytime you remove them. Note: if you do lose or break your aligners, get in touch with your dental team ASAP so they can determine the next best steps.
#4. Prioritize Your Check-in Appointments
Although Invisalign has fewer check-in visits, each one is equally as important. There are a few reasons for this. To start, this appointment allows your dentist to check on the health of your teeth and gums, ensuring no oral health problems have surfaced since your last visit. Secondly, they allow your dental team to monitor your teeth and make sure they are tracking properly. So, don't skip any of your check-in visits!
If you simply can't wait to see your beautiful new smile, don't try changing your trays early or straying from your treatment plan in any way. Instead, implement the above best practices, and your new smile will be here before you know it!
About the Practice
Our talented and trustworthy team at Goodman Dental Care is proud to be a top-rated dental office in Annapolis – we love helping people smile! Whether it's time for your six-month checkup or you're interested in a smile-enhancing service like Invisalign, we're here to help you achieve a smile that is as healthy as it is beautiful. If you have a question about the Invisalign treatment process or you want to schedule a consultation to find out if you're a candidate, don't hesitate to visit our website or call (410) 263-1919.