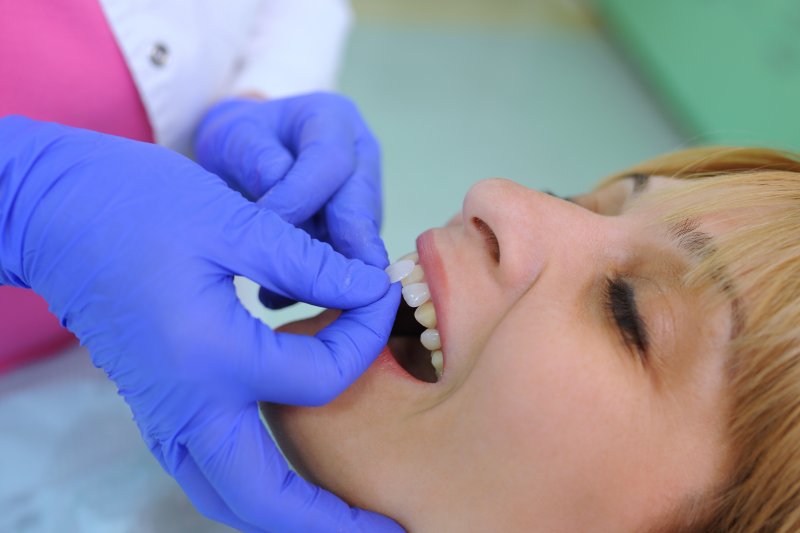 On some level, everyone wishes they could have their perfect smile. If you're getting cosmetic dentistry soon, that means you're about to make that dream a reality. Modern dental technology has become so advanced that there are hardly any aesthetic imperfections that your dentist won't be able to deal with.
Once you get your cosmetic dental treatment you'll want the results to last. Unfortunately, however, nothing is forever. Here are some of the most common cosmetic dental treatments, along with their expected lifespan.
Teeth Whitening
If you just want your teeth to shine, your dentist can use a bleaching solution to make your smile up to eight shades whiter within a single appointment. This transformation can look incredible; however, once your teeth are whitened, they aren't any less susceptible to stains than they were before.
Your smile can stay bright for anywhere from six months to three years, and how long your results will last largely depends on your diet and dental hygiene. That said, most people will see their smile return to its previous color after about a year.
Direct Bonding
Your dentist can apply a colored composite resin to your teeth to cover up all kinds of imperfections. Whether it's a yellow smile, cracks, gaps in teeth, or a combination of all of them, direct composite bonding can solve your issues.
As with all cosmetic treatments its lifespan depends on the quality of maintenance, but you can expect your direct bonding to last anywhere between five and ten years before needing to be touched up.
Veneers
If you want a smile fit for a red carpet, it's hard to beat veneers. Your dentist will remove a small sliver of your enamel and replace it with a tiny porcelain shell, with a size, shape, and color of your choosing. You can cover a single tooth you may have a problem with, or transform your whole smile!
The cement on veneers is designed not to be permanent, as eventually stains and scratches can affect their appearance and they'll need to be replaced. That said, they've been known to last up to twenty years if you maintain them well.
If you want to get the most out of any of these procedures, it's important that you keep up with dental hygiene. Brush twice a day, floss daily, and see your dentist biannually so that they can check up on you.
About the Author
At Goodman Dental Care, we know that our patients are more than just a set of teeth, which is why we work so hard to give you the compassion and respect that you deserve. Our dental team consists of experts that can treat whatever ails you, whether you need a simple checkup or a complete smile makeover.
If you have any questions about cosmetic dentistry, we can be reached at our website or by phone at (410) 263-1919.