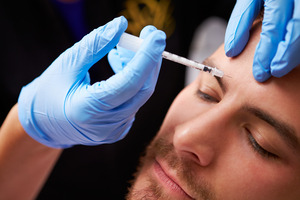 It's easy to get used to your new, more youthful appearance once you've gotten a BOTOX injection. However, it's important to remember that the results aren't permanent; if you want to maintain them, then you'll need to have follow-up injections performed at some point. Before getting BOTOX, you should have a clear idea of how long you can expect it to last.
Why Isn't BOTOX Permanent?
BOTOX works by blocking nerve signals to specific muscles in your face, causing them to relax. As a result, any wrinkles and fine lines caused by muscle contractions become less prominent around the area that received the injection.
However, the neurotoxin used for BOTOX does not last forever. Eventually, it will be broken down by your body, and the effects will wear off.
How Long Will BOTOX Last?
It can take up to 2 weeks for the effects of BOTOX to kick in. Once they do, you can normally expect the results to last around 3 to 4 months. However, some BOTOX injections last longer than others. There are several factors that can affect the timeline, including:
Metabolism: If you have a higher-than-average metabolism, your BOTOX treatment might wear off sooner.
The Area That Was Treated: The lifespan of your BOTOX results partially depends on where the injection was performed. The treatment generally lasts longer in the forehead or the space between the eyebrows.
Stress: When you're stressed, your body releases cortisol, which can lead to BOTOX breaking down at a faster rate.
Activity Level: High-intensity exercise generally causes BOTOX to wear off more quickly than normal.
The Amount Used: Some patients require a higher dose of BOTOX than others, and that affects how long they can expect to keep the results.
How Often Can You Have BOTOX Injections?
Naturally, once your BOTOX starts to wear off, you'll want to have another treatment performed as soon as possible in order to keep wrinkles and fine lines at bay. That said, it's important not to have injections done too frequently. You should generally wait at least 3 months until your next BOTOX appointment; that way, you're less likely to build resistance to it.
How Can You Help BOTOX Last Longer?
There are a few things you can do to help prolong BOTOX and keep your skin looking younger:
When you head to the gym for a workout, try doing more low-intensity or moderate-intensity exercises.
Keep your stress levels under control. Meditation and yoga can often help, but you might try other strategies depending on the source of your stress.
Eat plenty of foods that are good for healthy skin. Examples include fatty fish, avocados, and walnuts.
The dentist administering your BOTOX can give you further tips for helping it last as long as possible. Take the right steps so that you can enjoy your enhanced appearance to the fullest!
About the Author
Dr. A. Gary Goodman has been taking care of smiles in the Annapolis area since 1981. He has attended seminars and courses at the Pankey Institute in order to continue expanding his dental knowledge. At his practice, Goodman Dental Care, patients can have BOTOX performed to smooth out the wrinkles around their smiles. To schedule a consultation with Dr. Goodman, visit his website or call (410) 263-1919.