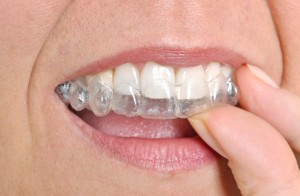 Looking for the perfect gift this holiday season? Our father-son team knows how important family is, especially around this time of year. You want to surprise your loved ones with just the right thing — and we've got a gift idea no one is expecting. It's Invisalign in Annapolis! Goodman Dental Care encourages you to give the gift of straight teeth and a more confident smile in 2016.
Gift a Surprise Invisalign Consultation
Most people who want to straighten their teeth are good candidates for Invisalign. While it's impossible for you to know whether or not your loved one's smile will be eligible for the treatment, we can tell you that if they are in good oral health with mild to moderately misaligned teeth, chances are good that Invisalign is an excellent option. Either way, you can gift your loved one an initial consultation to find out if their misalignment can be treatment with clear braces.
Invisalign corrects most common orthodontic issues, including gapped teeth, crowded teeth, overbite, underbite, and crossbite.
Comparing Invisalign with Traditional Braces
Of course, you could always just gift your loved one traditional braces. This metal hardware has long been the trusted orthodontic solution — so what's so great about Invisalign?
First of all, there's the fact that Invisalign is practically invisible. Adults and image-conscious teens love the fact that they can wear their clear braces at work, school, and at play with full confidence.
And because the Invisalign trays are removable, patients can continue to eat what they like throughout treatment. Simply slip the aligners out before meals and snacks, and feel free to crunch away on your favorite foods — without worrying that you'll break a wire or bracket.
Removability also reduces the risk that you will slack off on your good dental hygiene practices. Traditional brackets and wires create barriers to good brushing and flossing. But when you can take off your braces, you can continue to clean your teeth just like you know you should, every single time.
Busy adults especially appreciate the fact that the Invisalign treatment is completed faster than traditional braces — by as much as six months more quickly, on average. It also requires fewer visits to the dentist throughout treatment, allowing you to think less about straightening your teeth, and more about flashing your increasingly confident smile.
The Many Benefits of Invisalign Include…
Removability
Subtlety
Comfort
Convenience
Trusted solution (Over 4 million smiles transformed worldwide)
Straightening teeth isn't just good for self-confidence. Teeth that line up the way they should are easier to brush and floss, and a well-aligned bite promotes better oral and overall health, too. Treat your loved one to orthodontic treatment — it really is a gift that keeps on giving!
Give the Perfect Gift in 2016!
Invisalign is a great option for older teens and adults. If you're stumped what to give your loved one, but know they would appreciate straighter teeth, try Invisalign. Schedule a surprise consultation at the office of Goodman Dental Care today! Our patients love us… we've got the reviews to prove it.