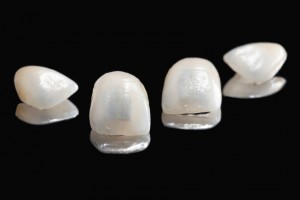 Have you been searching for the perfect gift to give your loved one? Why not give them a priceless gift this holiday season? With porcelain veneers, you will give the gift of confidence and beauty through a simple cosmetic procedure. Porcelain veneers drastically enhance the appearance of the teeth so your loved one will smile confidently. As a cosmetic dentist, Goodman Dental Care provides porcelain veneers in Annapolis to transform your loved one's smile.

What are Porcelain Veneers?
Veneers are thin false fronts that are bonded to the front side of the teeth. Porcelain has become the preferred material because it is thinner while also offering a more natural-looking appearance. Porcelain closely mimics enamel, allowing light to reflect off the surface of the teeth for a bright smile. Since porcelain veneers are thinner than other types of veneers, less of the tooth's structure is removed during the bonding process. As a result, the procedure is minimally invasive.
How Can Porcelain Veneers Enhance Smiles?
Porcelain veneers are fairly versatile for correcting a number of cosmetic flaws. Veneers give the teeth a shapelier and more proportionate appearance. This offers the ideal option for those who have cracked, chipped, or abnormally shaped teeth. Veneers are also commonly used to give a gummy smile a more attractive shape. In some cases, veneers can also be used as an alternative to orthodontic treatments by making the teeth appear straighter. Overall, their smile will be whiter, brighter and full of confidence.
What is the Procedure Like?
The process to receive porcelain veneers is very simple. You will need to schedule a consultation for your loved one to come into our office so we can evaluate their teeth to create a treatment plan. We will then thoroughly clean their teeth and remove a small amount of enamel. By etching the surface of the teeth, the veneers will bond securely to the teeth. After the teeth have been prepared, we will then take impressions, which are sent to the dental lab to create the new veneers. While the new veneers are being made, we will attach temporary veneers. In about two weeks, the final veneers will be ready to be bonded to the teeth.
Do Porcelain Veneers Require Special Care?
Porcelain veneers are very durable and offer a stain-resistant smile that will last for years with the right care. Your loved one will simply care for the veneers like they care for their natural teeth with proper oral hygiene. While veneers are durable, they can become damaged if the teeth are used for tools or if overly hard foods are eaten. Therefore, they will need to be careful to prevent damage. With the right care, their new smile will last an average of 10 years.
Give the Gift of Confidence
Porcelain veneers are the ideal gift to give someone you love who struggles with low self-esteem due to the appearance of their teeth. At Goodman Dental Care, we will transform their smile for a restored outlook on life. Contact our office today to schedule a consultation.