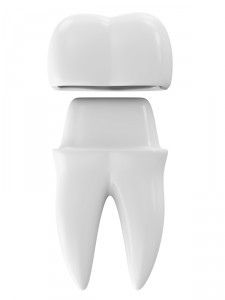 If you need a dental crown in Annapolis, you can now benefit from same-day crowns with the most advanced dental technology at Goodman Dental Care. As a leading dental practice in the Annapolis area, Goodman Dental Care strives to provide the highest level of care that is combined with state-of-the-art dental advancements. Using the most modern technologies, we are able to enhance the quality and comfort of the care you receive, while adding convenience and satisfaction to common dental procedures. By using E4D technology in our office, we offer same-day dentistry for unsurpassed results when needing restorations.

What is E4D Technology?
E4D uses CAD/CAM technology to mill restorations right in our office in about an hour. This allows you to get the restorations you need in just one day. With more than 30 million tooth restorations created by E4D technology worldwide, it has quickly become the preferred option for both patients and dentists.
In the past, when you needed a dental restoration, it involved multiple appointments. During the first appointment, the tooth would be prepared. Then, impressions would be taken, which would be sent to an off-site dental lab. While you waited for your crown to be made, you would have to wear a temporary crown. After your permanent crown was ready in a couple of weeks, you would need to come in for another appointment to have the temporary crown removed to allow for the bonding of the permanent crown. E4D resolves a number of complications and inconvenience factors associated with the traditional dental crown method.
Using E4D One-Visit Restorations, the tooth to be restored is prepared similarly to that of the traditional crown procedure. Instead of using impressions, we use digital scans of the tooth. This is the perfect option for those who have severely damaged teeth that couldn't otherwise use the impression material. After the scans are taken, they are sent to the CAD/CAM system, where we customize the crown to meet your individual size, shape, and color specifications.
Finally, our milling machine will create your new custom crown right in our office from a single block of material. In less than an hour, your new crown will be ready to be bonded to your tooth. You will not require a temporary crown. You will walk out of our office with your new restoration in just one appointment.
E4D eliminates the need for uncomfortable impressions while creating a more accurate restoration. In addition, the technology simplifies the restoration process, saving you time and money by only needing one appointment.
Same-Day Dental Crown in Annapolis
With same-day dental crowns using E4D, you will enjoy the best technology dentistry has to offer. In addition to a custom-crown in just one day, you will get an all ceramic restoration to preserve the health and function of your tooth. With a metal-free crown, you will have a more natural-looking restoration that blends in seamlessly with your natural teeth.
If you are ready to experience the best dentistry has to offer, choose Goodman Dental Care for same-day dental crowns.