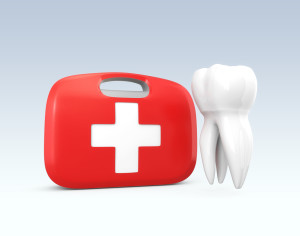 Unfortunately, a dental emergency is not always a pretty site, especially if the situation involves a child. There may be bleeding, swelling, pain and some crying, too. Keep in mind that the bleeding may look more profuse because the blood mixes with saliva. Nevertheless, you need an emergency dentist in Annapolis who is knowledgeable and offers immediate care. Dr. Gary Goodman or his son, Dr. Jeremy Goodman, is just that kind of dentist. Both are well trained and experienced in handling dental emergencies in children. In addition, their practice features the latest in dental technology so no matter what kind of procedure is necessary to remedy an emergency, you can rest assured that the results will look good and feel great! Read on to learn what you can do during different types of emergencies.
A Toothache
The first step is to take a look inside your child's mouth. If they can point to the spot that hurts, then you may be able to simply floss away the piece of food lodged between two teeth that is causing their discomfort. On the other hand, throbbing pain may be a sign of a more serious problem. Call our office immediately for a same-day appointment. Then, mix a tablespoon of salt in lukewarm water and have your child gargle. If the child is too young to gargle, then try a cold compress on his or her cheek and an over-the-counter liquid anti-inflammatory medication labeled for children.
A Knocked Out Tooth
When your child naturally loses a tooth and gets a visit from the Tooth Fairy, all is well. However, if a fall or blow to the face leads to a knocked out tooth, then it's time to see the dentist as soon as possible. Even if the injury causes the loss of a baby tooth, an evaluation is essential. If a permanent tooth was knocked out, then do the following:
Touch only the tooth's crown
Rinse the tooth is cold water
Try to place the tooth back in its socket and have your child bite gently
If this is not possible, then store the tooth in a cup of milk or mild saline solution
Chipped Tooth
If the chip is small and barely noticeable, then you may only need to keep watch on the tooth. However, a larger chip may open the tooth to infection. An emergency appointment is necessary. If you can, save the larger piece of tooth in a container filled with milk.
Contact Our Office Immediately
No matter what kind of dental emergency you have on hand, Drs. Goodman and their caring team are here to help. We think of our patients as family, so you can be sure your child will receive care that is caring and professional. Call our office immediately for urgent care.