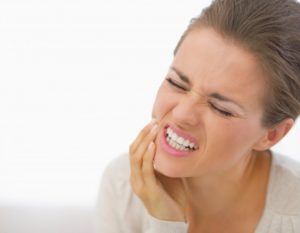 There's one thing about unfortunate situations: they happen out of the clear-blue sky. Just when it seems like everything is going okay – BAM – there's a big problem. Your emergency dentist in Annapolis doesn't want you to panic if you so happen to be involved in one of these traumatic occurrences pertaining to your mouth, teeth or gums. Instead, he'll provide you with a means of identifying a dental emergency and provide ways to respond so that you can stabilize the problem until you can be seen.
If This Happens, It May be a Dental Emergency
The following are examples of what could be classified as a dental emergency and what you should do until you can be seen by your dentist:
Sudden Facial Swelling – If you notice swelling in your face, it could be a sign of an infected tooth, bone or gum tissue. Until you can be seen by your dentist, be sure to drink plenty of fluids.
Tooth Knocked Out – If a tooth is knocked out, that is a definite dental emergency that requires immediate attention. Pick up the tooth being careful not to touch the roots, soak it in milk and then try to reinsert it in its proper place.
Broken, Cracked or Chipped Tooth – If a portion of your tooth is damaged, just be careful to not chew in that area to prevent further problems before you can be seen by your dentist.
Bleeding from Mouth – If you're bleeding from your mouth, be sure to keep your head elevated and bite down on a cotton swab to lessen the bleeding.
Toothache – A toothache can be a sign of decay and may cause swelling. One immediate thing you can do is take three Advils (600 mg total) three times a day to relieve the pain.
Pain When You Bite Down – This could be a sign that you have a cracked tooth or a pulp abscess, possibly requiring a root canal or extraction. Be sure to not chew on the side of your mouth affected until you can be seen by your dentist in Annapolis.
Object Stuck Between Teeth – If there is something stuck between your teeth, you can try to use floss to remove it and follow that with using an antiseptic mouthwash to halt any infection.
What's the Common Denominator in Any Dental Emergency?
No matter what type of dental emergency you have, there are two things to keep in mind:
Don't panic. Although this may sound like a cliché, it is very important to remember because when you lose control, you skip valuable steps that can improve your situation.
Contact your dentist to explain what is going on. This will save you time and pain, and ensure that you're soon to get out of harm's way.
To learn more about how to protect yourself in case you have a dental emergency, just reach out to your oral expert today and rest assured that if something bad occurs, there is immediate help for you.
About the Author
Following in his father's footsteps, Dr. Jeremy Goodman earned his Doctor of Dental Surgery degree from the University of Maryland School of Dentistry. And also, like his father, he remains passionate about continuing to learn by staying abreast of the latest innovations in dental techniques and technology. He practices at Goodman Dental Care and can be reached for more information through his website.