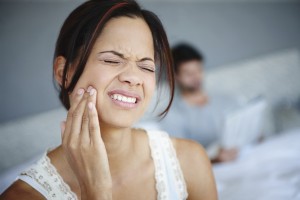 Remember what happened when you got hurt as a child? Your mom or dad would lovingly take care of you and compassionately ease your pain. Well, the father and son dental team of Drs. Gary and Jeremy Goodman may not be your parents, but they and their staff do offer the same level of care, compassion and empathy when you are dealing with a dental emergency. At Goodman Dental Care in Annapolis, MD, we are here when you need us to urgently repair your smile and restore your oral health.

The dentists and team at Goodman Dental Care are focused on relationship based family dentistry. Like your own family, you can count on us to be available when the going gets tough. We don't want you to ever take a "wait and see" approach with a possible dental emergency. Call us immediately at (410) 934-3086. One of our staff will be able to determine the seriousness of your situation and schedule a same-day appointment if necessary.
Have an emergency that happens outside of our regular office hours? No problem. Call the same number and our answering service will give you the phone number of the dentist on call. There's absolutely no reason to wait when you have a dental emergency.
Advanced Dental Technology for the Best Emergency Care
To provide our patients with the most up-to-date dentistry, our office takes advantage of the latest dental technology, which can be particularly helpful during a dental emergency. For example, with the E4D system, we can repair a broken tooth with a crown that is designed and fabricated right here in our office. Your tooth will be prepared and the crown will be made and set all during the course of a single visit.
Common Dental Emergencies
One of the dental emergencies we see most often at Goodman Dental Care is a toothache. First, we recommend flossing to see if the pain is being caused by something wedged between two teeth. If this doesn't help, then the pain may be due to infection and a root canal may be necessary.
The most obvious of dental emergencies is a knocked out, or avulsed tooth. In this case, the sooner you get to our office the better. Sometimes a knocked out tooth can be reattached of you are seen soon enough.
Call the Emergency Dentist Annapolis Trusts
If you are experiencing a dental emergency, then call Goodman Dental Care in Annapolis, MD, at (410) 934-3086. You can count on Drs. Goodman for the ultimate in dentistry. Just take a look at our reviews.