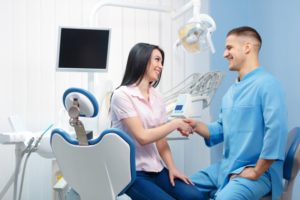 Over the past few decades, aesthetic dentistry has evolved tremendously. Now, more people than ever have access to cosmetic dental treatments in Annapolis. One of the procedures that has gained in popularity is cosmetic dental bonding. Continue reading to learn about 4 problems that it can fix to create the smile of your dreams!
What is Cosmetic Dental Bonding?
One of the more cost-effective ways of upgrading a smile, dental bonding uses compound resin material to enhance the appearance of the teeth. The procedure involves a cosmetic dentist adding the material directly to the affected area, then shaping and hardening it with a special light. Dental bonding is not only one of the more affordable forms of cosmetic dentistry, it's also quite versatile in what it can address. Better yet, it typically only takes around an hour to complete.
Stained or Discolored Teeth
If you've tried teeth whitening in the past, and you're not quite satisfied with the results you've achieved, you may consider dental bonding. Before any work commences, the dentist will use a special shade guide to determine the right color to match your surrounding teeth. Therefore, the stain can be masked, leaving you with a smile that looks completely rejuvenated.
Irregularly Shaped or Uneven Teeth
Symmetry plays a key role in the attractiveness of your smile. If one of your front teeth is unevenly shaped, it can draw negative attention. A dentist can add just the right amount of resin material and skillfully shape it to create an even and appealing new image.
Cracked Tooth
While a severely cracked tooth will often require the placement of a new crown, there are cosmetic options for situations where there is a slight crack. In this case, dental bonding can be used as a form of cosmetic cement, masking the imperfection and leaving you with a smooth and aesthetically pleasing new look.
Gaps Between Teeth
Minor gaps between teeth can be addressed with dental bonding. A dentist can expertly add the resin material to create a natural and more attractive space between your teeth. After carefully shaping the treatment area and hardening it, your smile will look as though you were born with it that way.
If you've been feeling limited – that there is no way to achieve the smile of your dreams, you now have some new hope. To find out if you're eligible for dental bonding, don't hesitate to reach out to a cosmetic dentist in Annapolis. With the right planning and execution, you can soon enjoy a gorgeous new smile!
About the Author
Dr. Jeremy Goodman is a graduate of the University of Maryland School of Dentistry. Not one to rest on his laurels, he has received advanced postgraduate training from the Pankey Institute, the Biomet 3i Synergy Training Program and E4D University for digital dentistry. Dr. Goodman uses his expertise to help his patients smile with confidence, performing dental bonding at Goodman Dental Care. He can be reached for more information or to schedule a visit through his website.