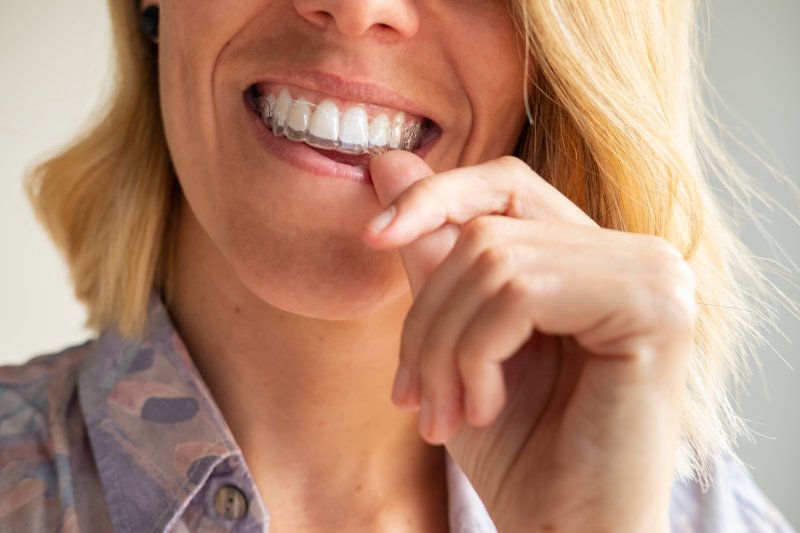 Invisalign is wildly popular among orthodontic patients, and it's easy to see why. It's much more discreet than traditional braces, and the fact that the aligners are removable means they don't require the same dietary restrictions.
Given its popularity, it's no surprise that there are imitators. Recently some companies have begun offering DIY clear aligner kits that claim to straighten your teeth just as effectively from the comfort of your home. That can be tempting, but Invisalign treatment can offer a lot that DIY aligner kits can't. Here are a few examples.
1. Pre-treatment Checkup
When you talk to a dentist about starting Invisalign treatment, the first thing they'll do is conduct a thorough exam of your mouth to determine if you're fit to begin the treatment. If you're suffering from severe tooth decay or gum disease, that could affect the aligners' ability to work properly.
Moreover, putting a plastic tray on your teeth for 20-22 hours a day can potentially make these problems worse, or can cause additional discomfort. That's why a dentist will help you treat any gum disease or decay that you have before treatment begins.
DIY aligner kits don't put you in contact with an in-person dentist, so you won't be able to get an in-person exam, nor will you be able to treat these issues.
2. Invisalign Attachments
Clear aligners themselves are simple, so there's a limit to what they can repair. However, many dentists make use of additional attachments that can address more issues than aligners on their own. These attachments are fused to the teeth using advanced dental techniques, meaning they can't be used without the help of a trained professional. Naturally, DIY aligner kits can't make use of these attachments, so they're less versatile than Invisalign treatment.
3. Addressing Issues as They Arise
There are a few issues that can cause your Invisalign treatment to take more time than you might like. For example, certain teeth might have a problem moving past one another, which can impede the aligner's ability to work on them effectively.
Your dentist would be able to shave your teeth down so that they can move past each other, but with a DIY kit that isn't possible. In the end, DIY patients might have to see a dentist in person anyway, with the only difference being that you won't have a pre-existing relationship with them.
About Our Practice
At Goodman Dental Care, we make it a point to offer every single one of our patients high quality dental care in a calm, comfortable environment. Our father-son team of dentists, Dr. Gary and Jeremy Goodman, believe in treating every patient with the respect they deserve. Our patients can feel that from the moment they walk in the door to our office.
If you have any questions about what a professional has to offer to clear aligner treatment, we can be reached at our website or by phone at (410) 263-1919.