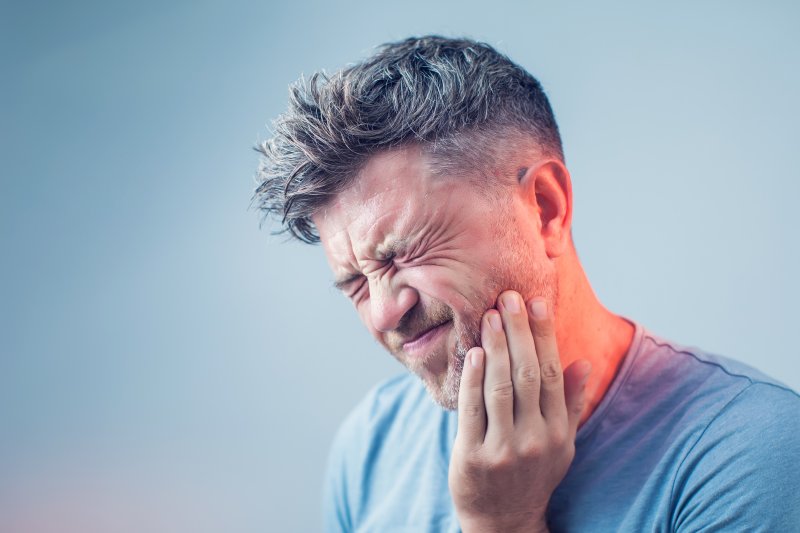 Like the candies that can cause them, toothaches come in many varieties. Some of them involve a lingering dull ache while others might be throbbing and miserable. They can be persistent throughout the day or only noticeable when eating or before going to bed. Here are a few common types of toothache and some tips from your dentist about what to do if you experience them.
An Unpleasant Tingling
You may find that your teeth have become more sensitive than normal. This is often the result of thinning enamel insufficiently insulating the inner layers of a tooth. You may experience a momentary but unpleasant tingling sensation when you consume hot or cold foods or drinks or items with sweet, sour, or acidic flavors. A good first step in this case is to avoid the stimuli that cause the sensation and use a desensitizing toothpaste until the issue goes away.
If the issue does not go away, or if it results in intense pain that lasts for more than thirty seconds at a time, the problem may be more serious. It may be caused by cracks, tooth decay, loose fillings, gum disease, or exposed roots. In these cases, call your dentist to schedule an appointment as soon as possible.
A Dull Ache
One of the most common types of toothache involves a dull aching sensation in the teeth. This is typically caused by simple problems with simple solutions. If your toothache results from having something stuck between the teeth or in the gums, the problem can usually be resolved by thoroughly brushing and flossing. If the toothache is the result of teeth grinding, it can be addressed by wearing a mouthguard when you go to sleep. However, in some cases, the problem can result from an abscessed tooth. This is a serious oral infection that requires immediate treatment from a dentist.
Severe and Throbbing
If you have a miserable throbbing toothache that cannot possibly be ignored, you should see a dentist immediately. This is usually caused by an advanced stage of tooth decay where a cavity has penetrated both the enamel and dentin layers and infected the pulp at the center. If left untreated, this will lead to tooth loss. To make matters worse, the infection can spread to other teeth or even through the circulatory system to cause dangerous secondary infections such as sepsis.
By being aware of the different types of toothache out there, you are better prepared to get the help you need. However, with excellent oral hygiene, you will be far more likely to avoid all of them.
About the Practice
Goodman Dental Care provides caring, compassionate service to patients in Annapolis, MD. Led by Drs. Gary and Jeremy Goodman, the staff delivers one-on-one comprehensive treatments with genuine affection. Areas of expertise include general, restorative, cosmetic, and emergency dentistry. If you are suffering from an unbearable toothache, dial (410) 263-1919 or contact the office online to schedule an appointment.