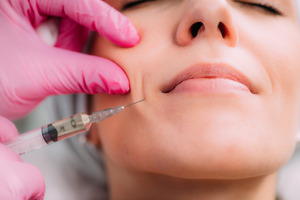 Despite the name, having laugh lines probably won't make you feel especially happy. If anything, you're likely to be self-conscious about the years they're adding to your facial appearance. Fortunately, there's a safe, non-surgical solution for laugh lines: dermal fillers. Here's everything you need to know about laugh lines and how dermal fillers can help you get rid of them.
What are Laugh Lines and How Do They Form?
Laugh lines (also known as smile lines) are creases that can appear in the space between the sides of your nose and the ends of your mouth. They usually form because the skin in that area isn't as firm or elastic as it used to be due to lower collagen levels. While laugh lines are often the natural result of the aging process, they can also be caused by excessive sun exposure and dehydration.
How Can Dermal Fillers Get Rid of Laugh Lines?
There are actually a few ways to address laugh lines, but oftentimes dermal fillers are the easiest solution. A gel-like substance is injected into the area where fine lines and wrinkles are present. This helps the skin regain its lost volume, resulting in a fuller appearance.
When you receive dermal fillers, you'll likely start to see an improvement in your appearance right away, and after one or two weeks you'll be able to enjoy the full effects. You may notice some bruising, but it should only be temporary.
How Long Will Dermal Fillers Last?
As effective as dermal fillers are for dealing with laugh lines and certain other facial imperfections, eventually they will wear off once they have been broken down by the body. On average, dermal fillers tend to last between 2 to 6 months. Fortunately, there are steps you can take to help the results last longer:
Follow any aftercare instructions you're given. For example, you'll need to avoid high-intensity exercise for at least 24 hours after initially receiving dermal fillers.
Make sure that your skin is well-protected from UV rays by wearing sunblock and avoiding excessive sun exposure. Many dermal fillers involve hyaluronic acid, which tends to degrade faster when exposed to UV radiation.
Take steps to manage your stress, such as yoga. Stress hormones like cortisol can have a significant impact on the longevity of your dermal fillers.
It should be noted that you can have dermal fillers redone once the original injection has worn off, allowing your face to maintain a smoother look.
If your laugh lines have been bothering you for far too long, dermal fillers could be the answer! Talk to your dentist for more details about the treatment.
About the Author
Dr. A. Gary Goodman went to the University of Maryland School of Dentistry and graduated with his Doctor of Dental Surgery. At Goodman Dental Care in Annapolis, he believes in treating all of his patients like family. Some of the cosmetic services that he offers include dermal fillers and BOTOX for smoothing fine lines and wrinkles. To schedule a consultation with Dr. Goodman, visit his website or call (410) 263-1919.