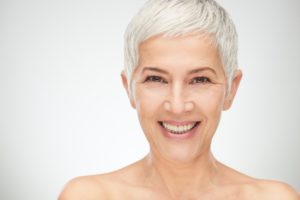 The importance of having a full set of teeth doesn't really hit home until you're missing them. Suddenly, simple things like eating a food item you like becomes difficult or even impossible without fully functional teeth. One of the most common ways to replace your missing digits is with dentures in Annapolis, but there can sometimes be issues with the way they fit. Keep reading to learn about the limitations of dentures and to discover a better solution for replacing your teeth!
The Challenges of Traditional Dentures
Traditional dentures consist of porcelain teeth that are affixed to a resin base. The latter fits above the gumline using dental adhesive to hold it in place. The fact that the prosthetics rely solely on the adhesive and the natural suction created by the palate to maintain their position presents some challenges, especially when gum shrinkage or basic wear to the dentures is factored in.
Here are some examples of how an improper fit can affect you:
It can alter the way you speak.
Poorly fitting dentures can cause discomfort or pain when wearing them.
There can be slippage, or they can fall out your mouth.
Your gums can become irritated.
Is There a Better Way to Replace Your Teeth?
Thankfully, with the innovations in dentistry, there is now another option for replacing your teeth – implant-retained dentures. The difference maker here is the dental implant, a titanium post that is surgically inserted under the gumline.
The implant is attached to your jawbone and will fuse with it over time through a process called osseointegration. This helps to fortify your existing bone mass and prevent the degeneration that comes along with prolonged tooth loss.
How Dentures are Attached to Implants
Once you have healed sufficiently from the implant surgery, your dentist in Annapolis will be able to fit you with your new set of implant-retained dentures. Now, instead of worrying about slippage and irritation of your gums, your dentures will be securely attached to the implants using buttons or snaps. This also translates into a greater ability to chew your food, speak with clarity and smile with confidence.
So to have your teeth replaced with dental implants in Annapolis, it's important to be proactive and reach out to your dentist. The professional will thoroughly examine your mouth to make sure that the implant process is the best route for you, and he or she will take the proper steps to restore your smile!
About the Author
For nearly 40 years, Dr. Gary Goodman has been a positive force in the Annapolis community, providing patients with top-notch dental care. A graduate of the University of Maryland School of Dentistry, he has remained an active learner throughout his career, taking continuing education courses annually from such prestigious institutions as the Pankey Institute and the Zimmer Institute, and he has also undergone a mini residency in implant prosthetics. Dr. Goodman replaces patients' teeth and restores their lives with dental implants at Goodman Dental Care, and he can be reached for more information through his website.