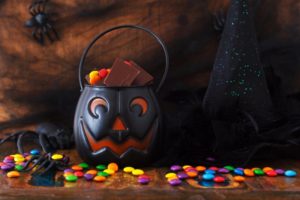 All the kids have dressed up as awesome superheroes and cutesy, glittery princesses to collect candy from door to door. That's right, it's time for Halloween! Trick-or-treating has been a tradition for years and years and the last thing that you want to do is be the house in your neighborhood that gives away apples and granola bars.
Even your dentist in Annapolis knows not to give away too many healthy snacks during the holiday season, or else it's safe to say you could expect a few toilet paper rolls hanging from the trees in your front yard the next morning. Instead of ruining the spirit of Halloween, try giving away these candies that might save little teeth from dental damage.
Your Dentist Vs. Sugar
Of course, your dentist will always deter you from overindulging in sugary foods—but oral health practitioners aren't naïve either—everyone loves sweet treats! Dentists just want to keep your body and especially your teeth healthy.
When you eat sugar, the bacteria in your mouth mixes with the leftover residue on your teeth, gums, and tongue. This mixture creates a harmful acid that will erode the protective layer of your teeth. This can lead to tooth decay, cavities, and other dental problems.
So, what do you do for Halloween?
Chocolate is Your Best Bet for Halloween Candy
But wait, you may be thinking, isn't chocolate super sweet? That's a fact, and that's why so many people love it! But in comparison to hard, sticky candies, soft malleable chocolate candies are much better for your teeth.
Hard sticky candies put you at risk for cracking, chipping, or damaging your teeth. Not to mention their sticky nature melts into the crevices of your teeth and can erode the enamel of your teeth. Chocolate, on the other hand, melts and can easily be washed down with a cup of water. Be sure to rinse your mouth after you snack on a snack size chocolate bar.
Your Dentist Shares the Health Benefits to Chocolate
Believe it or not, chocolate can actually be a super food for your health—especially your dental health. But we're not talking about white chocolate or even milk chocolate. We're speaking of rich, dark chocolate. Recent studies found in Japan, England, and the United States support that dark chocolate is effective at fighting cavities, plaque, and tooth decay in the mouth.
The compounds found in the cocoa bean have an anti-bacterial effect and help to fight against plaque—the very start to your dental problems. The research has actually shown that dark chocolate may even be more effective than fluoride at fighting cavities!
But be sure to get the right kind of dark chocolate to optimize your benefits. Try to find dark chocolate with less than 6-8 grams of sugar per serving—organic if possible. Raw chocolate is even a better choice because it leaves more antioxidants in place.
With the right snacks, everyone can trick-or-treat and have a healthy smile at the same time!
---
Meet the Dentists
If anyone knows the dynamic of Halloween and how the candy culture affects a child's experience during this holiday, it's the father-son duo of Dr. Gary Goodman and Dr. Jeremy Goodman. When it comes to making sure your children have a fun, exciting Halloween experience, feel free to ask our dentists the best ways to incorporate sweets while still keeping you and your child's smile healthy. Simply call our Annapolis office for advice.