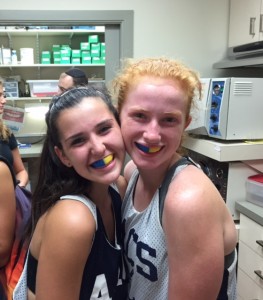 Field hockey can be a rough sport for those involved. The girls of the Annapolis Area Christian School sprint around the field full-force while expertly wielding their sticks, always vying for the right position to score. As you can imagine, this can be quite the dangerous environment for the athletes' teeth. This is why Drs. Gary and Jeremy Goodman, each a dentist in Annapolis, have chosen to donate fitted mouth guards to the team for the last 5 years.
Why Fitted Mouth Guards?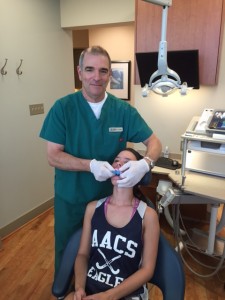 The last thing one of the girls on the AACS Girls Field Hockey team want to worry about is their teeth. The old adage is to keep your eye on the ball. This does very little to help should an errant ball or stick find its way to their teeth. Blood and guts and glory might be great on the field, but off it, the girls have active social lives and want to look their best both in and out of class. This is why 5 years ago Drs. Gary and Jeremy Goodman mentioned to recently retired Field Hockey Coach Sharon Wiley that he would be willing to give the entire team fitted mouth guards. Previously, the team had been wearing the standard store bought mouth guards. While these are better than nothing, they can be quite bulky and aren't made to fit each individual's mouth. By having a custom fit, this makes them more effective and comfortable when playing. They even added a personal touch by making them school colors. The girls on the 2016 team have commented on how comfortable they are, plus how the trip to the dentist itself is always a team activity they look forward to every year. The mouth guards have proven so popular that even the football team has chosen to get them as well.
Why You Should Consider a Fitted Mouth Guard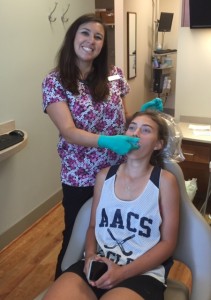 If you regularly participate in any form of sports, you should be wearing a mouth guard to protect your teeth. Even sports with light contact such as basketball or baseball could easily see an accident that leads to broken or lost teeth. A custom mouth guard is able to protect your teeth while not hampering your breathing while playing. Store bought mouth guards often awkwardly sit on the teeth and can move the jaw to an uncomfortable position. A custom fit assures that it will not fall out, plus that you will probably forget you are even wearing it after you start playing. The only time you will think about it is when you are glad it was there to protect you.
Let Us Protect Your Teeth
You don't have to be a part of the AACS Girls Field Hockey Team to enjoy the benefits of a custom fitted mouth guard. They work for any sport and can be made to fit anyone, regardless of their teeth. If you would like a custom fitted mouth guard that can help keep you in the game for longer, please give us a call today.