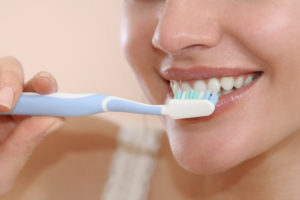 The word 'spring' derives from the Old English word springam, meaning to leap forward. The latter is quite synonymous with the sentiment that you are expressing for the upcoming Spring season – you want to leap forward with improvements in your total wellness. And one of the specific areas that you look to grow in is your oral health. You wonder, "Am I getting the most out of my oral hygiene?" Your dentist in Annapolis has answers, so he'll weigh in with 5 habits to avoid, helping to maximize your brushing. Learn what they are as you continue reading.
5 Mistakes to Avoid When Brushing Your Teeth
Inadequate Frequency – One mistake that you may be making is not brushing your teeth as frequent as you should be. This is vital because every time you eat, you attract more bacteria to your teeth and gums. Thus, you need to brush your teeth after every meal to run away any new intruders.
Using the Wrong Bristles – A common misconception is that the harder the bristles, the cleaner your teeth will get when you brush. The reality is, though, that the risks of damaging your gums with harder bristles outweigh any benefits. Most dentists agree that it's better to use softer alternatives and focus more on your brushing techniques for properly removing food particles from your teeth.
Not Rinsing – Rinsing is such a simple yet vital aspect of your oral hygiene routine. It contributes to your efforts to remove leftover food particles and bacteria, and also helps to flush away troublesome bacteria.
Not Replacing the Toothbrush – It is recommended that you discard your toothbrush every 60 – 90 days to avoid bacteria growth that causes illness and contributes to tooth decay.
Neglecting the Rest of Your Mouth – Remember that when you are brushing your teeth, that's just one aspect of your oral hygiene. You should also sweep your cheeks, the roof of your mouth and your tongue. These are all places that bacteria like to congregate.
Why is Oral Hygiene So Important?
As discussed above, your oral hygiene practices help to eliminate and control bacteria. But what is the big deal with these frequently mentioned substances? These troublesome nemeses can come together to form plaque, a sticky substance that covers your teeth and gums. It has acidic qualities that bore into the enamel of your teeth, slowly destroying more and more material as it's allowed to fester.
If not addressed, this can lead to gum disease and other health problems like arterial plaque formation, which can cause heart damage. So when you brush your teeth properly, you are taking a step toward improving the health of your entire body.
To learn more ways to improve your oral and overall health, just reach out to your local dentist to schedule an appointment today!
About the Author
For 35 years, Dr. Gary Goodman has provided exemplary care to the Annapolis community. A graduate of the University of Maryland School of Dentistry, where he earned his Doctor of Dental Surgery degree, he remains dedicated to lifelong learning by attending education seminars, practicums, and courses. Dr. Goodman practices at Goodman Dental Care and can be reached for more information through his website.