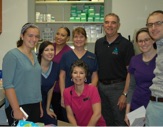 At Goodman Dental Care, we know our duty to provide excellent dental care extends beyond our office out into the whole community. As such, on August 30, 2017, your dentist in Annapolis was so excited to provide our 7th annual Donated Dental Day!
About the Event
During the event, comprehensive dental care was provided to members of the Annapolis community who otherwise have no access to dental care. Most of the patients were referred to us by the Stanton Center, an outreach clinic of Anne Arundel Medical Center.  
Services provided on the Donated Dental Day included dental hygiene, periodontal treatments, root canal treatments, extractions, tooth colored composite fillings, exams, and x-rays. A few patients benefited from our E4D digital technology and had same-day-crowns made, too.
Listen to Jennifer talk about her experience here below.
Of course, the day would not have been possible without the help of our community partners. We would like to thank some of our vendors who donated supplies to our effort: Jack Hart of Clinical Supply, the Henry Schein Cares Foundation, Justin Salvi of Ivoclar, and Ultradent Products Inc. We are also very grateful for the donations of supplies, and moral support and encouragement from Beverly Bochak of Henry Schein Dental. In addition, we would like to thank Cheryl and Jo of the Stanton Center for the scheduling and support they cheerfully provided.
We at Goodman Dental Care feel grateful that we were able to provide quality dental care to those in need — and we look forward to future opportunities to give back to the community we love so much.
Come See Us!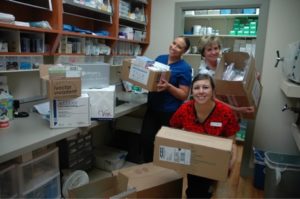 Preventive dentistry is so crucial for oral and overall health — and that's why we are passionate about Donated Dental Day. When was the last time YOU visited the dentist for a routine checkup and cleaning? Call off the web search for a "dentist near me" providing quality care. We invite you to schedule an appointment at Goodman Dental Care today!