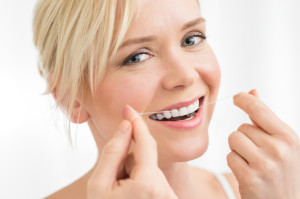 Did you know that many dental issues could be prevented? With excellent home care and regular dental checkups, your trusted team at Goodman Dental Care can help you avoid many conditions such as tooth decay, periodontal (gum) disease, and oral cancer. Your dentist in Annapolis discusses the importance of preventative care and how you can make the most of your home care routine.
Proper Brushing and Flossing
Did you know that how you brush your teeth is just as important as how often? Using proper brushing technique can make all the difference in how much plaque you're able to remove. Here are some helpful tips:
You should brush at least twice per day for at least two minutes.
Use a soft bristle brush and be sure to replace it every 3-4 months.
Hold your brush at a 45 degree angle to your gums and brush in slow circular motions.
Brush gently – don't scrub vigorously, as you can cause damage to your gum tissue.
You might want to consider using an electric toothbrush as it does most of the hard work for you. It also times your brushing to ensure that you're accomplishing the full two minutes of brushing.
Many patients may think that flossing is not a big deal, but it's important because it removes plaque buildup from in between your teeth. Did you know that you can actually get cavities in between your teeth? Flossing also helps strengthen your gum tissue and protects against gum disease. You should floss at least once a day, and here are some helpful tips for proper flossing technique:
Start with about 18 inches of floss tightly wrapped around your fingers
Move up and down gently in between your teeth using a c-shape motion that hugs each tooth
Use a clean section of floss for every tooth
Preventative Appointments
Drs. Gary and Jeremy Goodman recommend that most patients visit every six months for routine cleaning and checkups. Those patients who struggle with gum disease may need additional visits to keep their condition under control. At these appointments we'll screen you for dental issues and also clean your teeth, which removes the excess plaque buildup that causes conditions such as gum disease and tooth decay. Early detection of certain issues allows you to have the opportunity to successfully treat them with less invasive procedures.
Contact Goodman Dental Care
With an excellent home care routine and consistent preventative appointments, we hope to help you achieve and maintain a healthy and beautiful smile for a lifetime. Contact Goodman Dental Care today to schedule your next appointment.