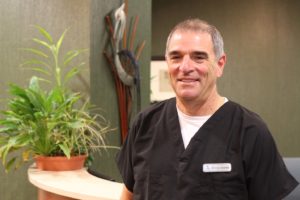 Dr. Gary Goodman, an experienced restorative dentist in Annapolis, takes great pride in helping his patients to protect their oral health and, when necessary, restore it via advanced dental techniques. If you are suffering with extensive wear and tear on your smile that affects your appearance and your bite, you might be encouraged when you review how Dr. Goodman recently helped a patient to regain a healthy, functional, and beautiful smile.
A Case of Advanced Wear
When Dr. Goodman first examined the patient, he discovered that his front teeth were severely worn down. This issue likely contributed to his temporomandibular joint problems and restrictive bite. The patient did not take action at that time to correct the problem, but Dr. Goodman let him know that that modern dentistry could help him. The patient returned six months later, ready to explore his options for renewing his teeth and bolstering his oral health.
The Treatment
The patient's treatment took place over three phases:
Phase I: Goodman diagnosed the patient's specific problems and designed a plan to normalize his oral anatomy (to get his teeth into their proper places and functioning at their best).
Phase II: All of the patient's wisdom teeth were removed, and orthodontic treatment (via Invisalign) took place over the course of 10 months.
Phase III: During this restorative portion of the treatment, Dr. Goodman placed custom crowns on the worn teeth to restore their shape, improve their appearance, and provide optimal functioning. Orthodontic retention (maintaining the results of the Invisalign treatment) were also part of this stage of the process.
The End Result
When you review this case in detail, it becomes obvious that Dr. Goodman took great care to make sure that his patient received high-quality treatment. He made a careful diagnosis, collaborated closely with an orthodontist, the dental lab, and the patient, and achieved remarkable results. The before and after pictures are stunning, and you can only imagine how thrilled the patient must have been to gain a new, healthier smile!
Would You Like to Know More?
Dr. Goodman reviewed this case in an article that he wrote for his study club; you'll find that it is a fascinating read! You'll learn details about the patient's specific oral health issues, the timeline of the treatment, and the remarkable care and diligence that Dr. Goodman put into helping this man discover the benefits of well-aligned, strong set of teeth.
After you've read the article, you may be inspired to finally take steps to hit the refresh button on your own smile! Dr. Goodman would be happy to consult with you and help you become the owner of a healthy, strong, properly positioned, and beautiful set of pearly whites.
More About Dr. Goodman
Dr. Gary Goodman has proudly served the Annapolis community for almost 40 years as a general and restorative dentist. His extensive education and experience come together to help him provide patients with the best care possible. If you are ready to schedule a consultation with him, contact our office at 410-263-1919.