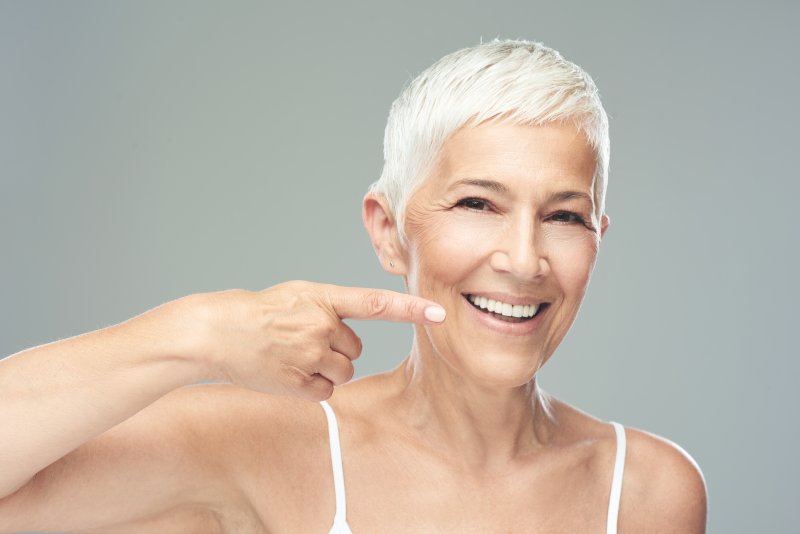 Dental implants are the most durable and long-lasting way to replace one or more missing teeth. Unlike traditional methods of tooth replacement, they are completely stable and allow you to speak, eat, and laugh with ease. Along with all the oral health and practical benefits that dental implants offer, they also come with many aesthetic perks. They can even make you look younger! Read on to learn how.
Smile Brightening
Due to enamel wear and years of stains and discoloration from consuming tea, coffee, wine, cola, and other dark or highly pigmented foods and drinks, your smile may look less bright than it once did. With dental implants, stains are a thing of the past. The crown or other restorations attached to your implants will likely be made from porcelain, which is non-porous. This means that porcelain is resistant to stains, so your smile can remain discoloration-free and as youthful as ever.
A Fuller Face
When we lose teeth due to decay, gum disease, or other factors, the part of the jawbone where the tooth used to be is no longer receiving the stimulation it needs. This may lead to bone loss, which can give the face a gaunt appearance and make you look older than you actually are. Dental implants can prevent this from happening. Since they are inserted directly into the jawbone, they provide it with the necessary stimulation to keep it from eroding. Your teeth also play a huge role in maintaining your facial shape, so filling in the gaps in your smile will keep it looking healthy and full.
A Healthier Smile
The gaps that missing teeth leave behind make your smile look less healthy, which makes you appear older. The surrounding teeth may eventually begin to tilt toward the gaps, which will weaken them over time and may eventually lead to damage or additional tooth loss. The empty sockets where your teeth used to be can also breed harmful oral bacteria, which may end up leading to decay, gum disease, and the loss of even more teeth. Dental implants fill in the gaps to prevent these issues and keep your smile looking healthy and youthful.
With so many aesthetic benefits to offer, dental implants are an exceptional way to revitalize your smile. Get your grin back on track by calling your dentist to set up a consultation. Before you know it, you'll be sporting a new smile you love!
About the Author
Goodman Dental Care aims to help patients of all ages maintain excellent oral hygiene and take good care of their pearly whites. Are you missing one or more teeth and in need of durable, lifelike, and long-lasting replacements? They offer dental implants that can help you regain some of your bite power and preserve your oral health. Ready to make an appointment with Goodman Dental Care's compassionate, knowledgeable team of Annapolis oral health professionals or have questions about dental implants? Call them at (410) 263-1919 or visit their website to get started on your journey towards a more beautiful smile.