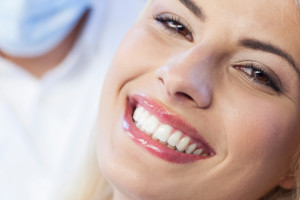 Are you dissatisfied with the appearance of your smile? If the answer is a resounding yes and you are also considering dental veneers as a lasting solution for imperfect teeth, we think that's a fantastic idea. Your cosmetic dentist at Goodman Dental Care provides veneers to solve a number of issues — find out how they work in this week's blog post.
What Are Dental Veneers?
Veneers are thin coverings for your front teeth that are usually made of porcelain or composite resin. Dental porcelain does not absorb stains but costs more than composite resin. A veneer is securely bonded onto the front surface of a prepared tooth, where it remakes its size, shape, color, and overall appearance. Veneers are highly customizable and designed to blend in well with the rest of the natural teeth.
Dental veneers can solve a variety of cosmetic imperfections, including…
Chipped teeth
Stained teeth
Slightly gapped or misaligned teeth
Misshapen teeth (like too pointy or short)
Chalky teeth
How Are Veneers Placed?
To place veneers, your dentist will first remove a bit of tooth enamel from the front of each tooth. This preparation helps make room for the veneers to lie flat against the surrounding natural teeth. Because you will always need something covering up the teeth after enamel has been removed, veneers are considered an irreversible treatment.
After the teeth are ready, an impression or mold is taken. This impression is sent along with your treatment plan to the laboratory that will manufacture the veneers. We'll apply temporary veneers to your prepared teeth and plan on a time for you to come back to receive your permanent restorations, usually about a week later.
In the second visit, your veneers have been manufactured and are ready for placement. Your dentist will remove the temporary veneers and check the fit, feel, and function of the new ones. We can make any final adjustments at this point before each veneer is securely bonded to the surface of the teeth.
After we have finished, we'll hand you a mirror and give you the first look at your new, beautiful smile!
How Long Do Veneers Last?
With proper care and maintenance, dental veneers can last for many years. Veneers made of porcelain may last longer than composite resin. Protect your veneers with a customized mouthguard if you grind your teeth at night or play contact sports. Make sure you continue to brush and floss your teeth to prevent cavities and gum disease.
Most veneers last for more than a decade. If you notice a veneer becoming loose or if one breaks, visit your dentist immediately. Veneers usually cannot be repaired, but placing a new veneer is as simple as the initial procedure.
Let's Get Started on Your Best Smile!
If you are ready to reveal your most beautiful grin, it could be the perfect time for porcelain veneers in Annapolis. Most patients are eligible candidates for this common cosmetic treatment. Request a cosmetic consultation at Goodman Dental Care to find out about your options today!