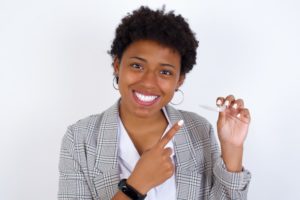 In the past, you wore traditional braces to straighten your teeth. While this is typically a quite effective way of fixing a smile, you're not satisfied with your current results. So you can finally achieve the smile that you've always wanted, you're considering a new route. Will Invisalign after braces in Annapolis work for you? Here's some information to help you make a decision!
The Differences Between Invisalign and Traditional Braces
Although Invisalign and braces aim for the same result – a straight and functional set of teeth, they take different approaches to achieving the goal. Whereas braces require wearing metal brackets and wires that apply pressure to the teeth to move them, Invisalign relies on BPA-free clear, plastic aligners that are custom designed to fit your teeth perfectly.
Instead of visiting every four weeks for adjustments, as is the typical protocol with braces, you'll be provided with a series of aligners that you'll switch out every two weeks to further your progress. While it may be tempting to remove the aligners, you should be mindful that they are required to be worn at least 22 hours a day to ensure that your treatment stays on track.
Can I Receive Invisalign Treatment After Wearing Braces?
To determine your eligibility, your dentist will thoroughly examine the condition of your teeth and oral health. As long as you don't have a complex orthodontic issue like severe crookedness or large gaps, you should be good to go. If you've worn braces in the past, chances are the more complex bite problems have already been addressed.
Why Invisalign May be the Better Option
One of the reasons that people need further orthodontic care after wearing braces is that they stopped wearing their retainer too early. When this happens, the teeth can be subject to regressing to their original position.
Thankfully, Invisalign provides a way to get your smile back on track. If you take this route, here's what you can look forward to:
A discreet treatment option
A typically faster treatment process
The ability to eat any foods you desire
Easy removal to perform normal dental hygiene
If you're not so happy with the current condition of your smile, it's worth paying a cosmetic dentist in Annapolis a visit to learn more about Invisalign. By taking swift action, you can prevent any further regression and go on to finally achieve the smile of your dreams!
About the Author
Dr. Gary Goodman earned his dental degree from the University of Maryland School of Dentistry. Throughout a career that has spanned 40 years, he has demonstrated his commitment to excellence by taking several hours of continuing education, which includes courses at the Pankey Institute, Spear Study Club and other highly respected institutions. Dr. Goodman helps his patients enjoy straight, attractive and functional smiles at Goodman Dental Care, and he can be reached for more information or to schedule a visit through his website.