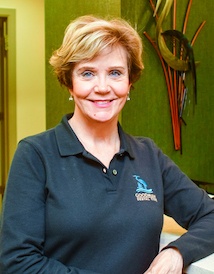 These days, it is rather uncommon to find someone who has worked at the same company for more than a couple of years. At Goodman Dental Care, we have several team members who have stayed with our practice for decades. In fact, Linda Edelen recently reached an amazing milestone: 50 years! In this blog post, learn more about Linda's journey in dentistry and how she has helped our practice become what it is today.
Fun Journey from the Beginning
When she first started with Dr. Grobani's practice 50 years ago, Linda worked as a part-time dental assistant while she was still in high school. She eventually transitioned to full time and continued in this position until 1985, when Dr. A. Gary Goodman took over. At that point, she switched gears, transitioning to the administrative side of the practice. In fact, she recalls the days of handwritten insurance claims and patient forms, getting the first computer for the dental office, and having to input all the hardcopy information onto the computer.
Later, as Dr. Goodman decided to separate and start his own practice, Linda gladly joined him. She says, "I love the way Dr. Goodman handles patients. His sincere commitment comes through." She adds, "Besides probably being one of the best dentists in the area, he is so generous to those in need. I couldn't have worked for anyone for this long if I weren't proud to be a part of it."
Commitment to Excellent Service
If you've ever talked to Linda, or anyone from Goodman Dental Care for that matter, you likely familiar with the effort and care taken to make sure that everyone feels welcome as soon as they walk through the front door. Although Linda doesn't particularly enjoy having to talk to patients about payments and money, she has learned that everyone just wants to be treated with dignity and respect—just like she would want to be treated. At Goodman Dental Care, you won't find inattentive staff members who are abrupt or discourteous but rather inviting, friendly people who genuinely care.
Adventure and Travel
Away from the office, Linda loves to spend time with her animals—she and her husband have two dogs, two cats, and a parrot. But more than anything, she enjoys planning and taking trips. She has dragged her husband around the world and visited many exciting places, such as New Zealand, Hawaii, and Paris, France. For the coming year, she is planning a cruise in January and a visit to Glacier National Park in July.
At Goodman Dental Care, we are privileged to have Linda as an integral part of our team, and we hope to continue learning from her example and making our practice such a fun, comfortable place to visit for our patients. Congratulations on 50 years, Linda!