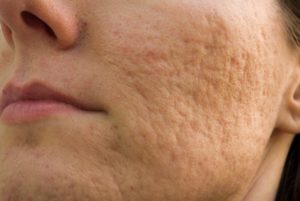 As we go through life, our body shows wear-and-tear from accidents and aging, like scars and wrinkles. Some people believe these signs make them appear older than they actually are, and simply reducing their appearance can provide them with a massive confidence boost. BOTOX in Annapolis is a cosmetic treatment best known for reducing wrinkles, but did you know it can also help minimize the appearance of facial scars? Read on to learn more about this unique use for BOTOX.
What is BOTOX?
BOTOX is the product name for a diluted bacteria called botulinum toxin. It can be injected into muscles in the face that have been overworked, causing fine lines and wrinkles to appear on the skin, to help them relax and smooth out. It's typically used in the cheeks, between the eyebrows, on the forehead, and near the eyes, as these are some of the areas where the most commonly used facial muscles are located. The injections themselves take less than a minute to administer, and you can start noticing results within about a week.
Can BOTOX Help Minimize Facial Scar Appearance?
Scarring is a natural part of the body's healing process once tissue has been damaged. It can occur after an accident that involved you getting stitches, because of acne, or after a surgery. When the tissue breaks, it releases collagen, so naturally, the body reacts by producing extra collagen in that area to heal and strengthen the wound, resulting in scarring. While most scars fade with time, this isn't the case for all of them.
Scars that are located on the face can have a drastic impact on someone's confidence because it can feel so noticeable. In 2018, researchers set out to see if BOTOX can have scar-minimizing effects for 16 patients who had undergone facial plastic surgery. Eight of the patients receive BOTOX injections, and over the course of six months, surgeons found that their scars' appearances were noticeably minimized.
What Else Can BOTOX Treat?
While BOTOX is only approved by the FDA for cosmetic uses like reducing the appearance of wrinkles, countless studies have shown that it can be effective treatment for a variety of other issues, including helping with migraines, minimizing eye spasms, and even reducing sweating. You may be surprised to learn that BOTOX could be the answer to something you've been struggling with for a while—the only way to find out is to consult a cosmetic dentist in Annapolis and let them know what you're dealing with.
About the Author
Dr. Gary Goodman has been practicing dentistry since 1981 and has kept up with the latest advancements and research in his field by taking continuing education courses in his free time. He is a proud, active member of several professional organizations and is passionate about helping his patients see their smile potential by providing beautiful cosmetic and restorative results, like with BOTOX. For questions or to schedule an appointment for BOTOX, visit Goodman Dental Care's website or call 410-263-1919.