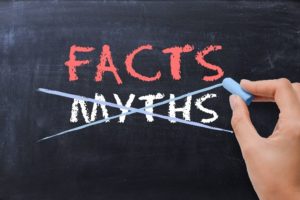 If you're not happy with the way your teeth look, a picture-perfect smile is possible with the help of a qualified cosmetic dentist. However, there are a lot of rumors about cosmetic dentistry, but as with most myths, many aren't true. Whether you're embarrassed by tooth discoloration or chipped teeth, here are 5 facts you need to know to turn the smile of your dreams into reality.
Myth #1: Cosmetic Dentistry is Too Expensive
Fact: There are solutions for all budgets.
You do not have to be rich or famous to invest in cosmetic dentistry. Although it's often associated with a large price tag, it's affordable for people from all walks of life. There are more treatment options than ever before, which means there's a solution to fit your budget. Not to mention, many dental practices offer various financial solutions to keep a stunning smile affordable, like monthly payment plans with CareCredit.
Myth #2: Cosmetic Dentistry Looks Unnatural
Fact: Your results will look and feel natural.
You don't have to worry about your new smile looking awkward or fake. Advancements in materials, techniques, and technologies allow cosmetic dentists to produce results that look natural. In fact, only a trained dental professional will know you've had any work done. You won't have to think twice before flashing your pearly whites.
Myth #3: Cosmetic Dentistry Requires Extensive Dental Work
Fact: There are many minimally invasive options.
There are a variety of treatment options to address many aesthetic imperfections, including minimally invasive procedures. You won't have to undergo a complex or lengthy treatment plan to reach your goals. Your cosmetic dentist will determine which procedures are right for you based on your expectations and preferences. They will discuss all your options, like teeth whitening, dental bonding, or porcelain veneers.
Myth #4: Cosmetic Dentistry Only Involves Aesthetics
Fact: Cosmetic dentistry may improve your oral health.
Contrary to common belief, cosmetic dentistry offers more than just aesthetic benefits. Addressing certain issues can improve your oral health, like fixing a chipped tooth or correcting alignment problems. Your cosmetic dentist will create a healthy, beautiful smile to get the most from your investment.
Myth #5: You Can't Use Your Dental Insurance for Cosmetic Dentistry
Fact: Dental insurance covers medically necessary treatments.
Most dental insurance plans won't cover elective services, but there are some exceptions. Many cosmetic procedures also offer restorative benefits, like dental crowns or cosmetic bonding. If your dentist determines a treatment is necessary for your oral health, you may be able to use your dental insurance to lower the amount you pay out-of-pocket. Your coverage may also include your initial consultation or any preliminary treatments, like a cleaning and checkup.
Everyone can have flawless teeth they are proud of. Don't let rumors prevent you from loving the smile you see in the mirror.
About Dr. Jeremy Goodman
After earning his dental degree at the University of Maryland School of Dentistry, Dr. Goodman completed additional education in general dentistry and has regularly pursued advanced training in many specialties, like cosmetic dentistry. He strives to keep a healthy, beautiful smile within everyone's budget. Request an appointment through our website or call (410) 849-6247.