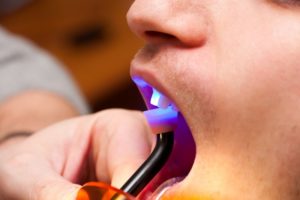 The holiday season is approaching more rapidly than you would like it to. Ordinarily, you would relish the opportunity to spend more quality time with your friends and family, but this year your smile isn't quite up to snuff. Chips in your teeth and little gaps in your smile make you self-conscious about your appearance, and you don't want the people you love to see you like this. Fortunately, there's an easy solution – cosmetic bonding. A cosmetic dentist in Annapolis is here to talk about how bonding can give you the smile of your dreams just in time for the holiday season.
What Is Cosmetic Bonding?
Cosmetic bonding is a quick and easy procedure to correct minor imperfections in your smile. Your dentist will apply a highly malleable composite resin to your teeth, which is actually the same material used in tooth-colored fillings. This substance is a mixture of plastic and glass particles. It can also be custom shaded to match the color of your existing tooth enamel, or even lighter to correct stains.
First, your dentist will choose the shade of the bonding material to seamlessly blend in with the rest of your smile. Next, they will apply the material in layers until the desired shape, size, and color are achieved. Finally, they will use the curing light to harden the composite resin and polish it to make it appear like a thoroughly natural part of your smile.
Advantages of Bonding Over Porcelain Veneers
If you have aesthetic imperfections in your smile, you might have considered getting veneers. These super-thin wafers of dental porcelain are bonded to the front surfaces of teeth to mask the same kinds of flaws that cosmetic bonding can often fix. If you're torn between the two of them, however, it's wise to consider bonding. It offers several benefits over veneers, such as:
Cost
Veneers cost significantly more than bonding does. Furthermore, bonding is a bit more likely to be covered by your insurance, because it can be used to structurally repair a tooth.
Time
Bonding can usually be completed in a single appointment, while veneers take two or more.
Less Invasive Treatment
Porcelain veneers require that some of your enamel be removed to ensure they lay flat against your smile line. Bonding allows you to keep more of your natural tooth structure.
If you're feeling down about your smile this holiday season, ask your dentist if cosmetic bonding in Annapolis is right for you.
About the Author
Dr. A. Gary Goodman obtained his Doctor of Dental Surgery degree from the University of Maryland's School of Dentistry. He has been providing quality care to the Annapolis, MD community since 1981. His professional memberships include the American Dental Association, the Maryland Dental Association, and the American Academy of Implant Dentistry. His practice offers cosmetic bonding so that you can transform your smile just in time for the holidays. To schedule a consultation for bonding, click here to contact Dr. Goodman's office.